Russian Lips are one of the hottest trends in aesthetics right now, with over 284k mentions on Instagram and 23.5m views on TikTok. The look is created using a different injecting technique than that traditionally used for lips fillers, and began to gain popularity in Russia in 2015 before making its way west and exploding in popularity in the UK.
What are Russian Lips?
Russian style lips are rumoured to be modeled on Russian nesting dolls, also known as matryoshka or babushka; who have perfectly heart-shaped lips and a defined cupid's bow. The goal of the Russian Lip technique is to accentuate the cupid's bow and create something close to a heart shape, and to heighten the lips rather than adding excessive plumpness; creating lips that resemble that of a matryoshka doll.
How are Russian Lips Created?
Because the intended shape of Russian Lips is so different from that created by traditional filler, clients will need to have either let their original fillers wear off or have had them dissolved with hyaluronidase. Russian Lips are created by retro-injecting columns of filler vertically into the lips through the vermillion border, rather than horizontally in the vermillion zone as is done traditionally. This technique is also known as 'lip tenting', with the columns of filler acting as 'tent-poles' that hold up the white roll around the lip, creating lip definition.
What's the Final Result?
The Russian lip technique adds height to the lips and shortens both the appearance of the philtrum and the distance between the lower lip and the chin. The technique accentuates the cupid's bow, and highly defines the edges of the lips; all whilst remaining relatively flat when viewed in profile. 
Critics of Russian Lip Filler
As with any new aesthetic trend, Russian Lip Filler isn't without its critics. Dr Steven Harris, an internationally recognised aesthetics practitioner believes that the Russian filler technique could easily cause filler migration. He suggests that injecting downwards through the vermillion border creates holes or tracks through the orbicularis oris muscle which surround the lips, and that these holes allow filler to seep back through the vermillion border and into the upper lip. As of yet, though there is no definitive proof that this is indeed the case.
Practitioners have also commented that Russian filler technique is more likely to cause discomfort, bruising and swelling to the lips than traditional filler technique, due to the placement and number of injections needed.
The Future of Russian Lips
With the sheer volume of clinics in the UK now offering Russian style filler, and the obvious client demand seen on social media, it looks like Russian Lips will be around for the foreseeable future. Still, we can't help but wonder what the next trending lip style will look like, and whether perhaps it might be kinder to lips than the doll-like Russian Filler Technique.

With so many companies offering training in aesthetic injectables, it can be difficult to know who to choose. At MATA, we believe our Harley Street-developed practical aesthetics training gives delegates the best possible start in the aesthetics industry for the following five reasons:
1. We Provide Real Models
We provide live model patients who have been pre-assessed to ensure their suitability for treatments. We believe that this gives delegates the best opportunity for a wide breadth of learning; as all clients will vary in their treatment needs, their skin and anatomy, and even their pain thresholds and comfort levels during the Botox or dermal filler procedure.
2. We've created a Worthwhile Curriculum
Our curriculum has been developed from our home at No.1 Harley Street by a team of medical professionals led by a plastic surgeon with over two decades of experience in the field, and we have worked to ensure that our hands-on training allows delegates to perfect their technique in the most popular Botox and dermal fillers treatments in the UK, which will only enhance their success on entering the aesthetics industry.
3. Our Courses Are Delivered By Experts
MATA's trainers have all worked in the aesthetics industry for at least three years and have extensive training and qualifications; with many owning and operating their own aesthetic clinics in addition to training for MATA. This level of expertise allows them to deliver incredible hands-on training for our delegates.
4. Our Class Sizes Are Small
At MATA, we will not register any more than six delegates on a course. This ensures that every delegate is able to both practice and observe Botox and dermal filler treatments; alongside having the opportunity to meaningfully network with fellow attendees.
5. We Only Accept Medical Professionals
Although current regulations in the UK allow anyone to study towards and carry out aesthetic injectable procedures; at MATA we only accept medical professionals onto our courses. This is because we believe that only medical professionals, with their wealth of clinical experience and years of education in anatomy, vasculature, musculature, medications and contraindications have the appropriate skills to provide aesthetic injectable treatments and handle any emergencies that could occur. This selectiveness in admission is beneficial for our delegates, as all will operate at similar levels of skill which will allow classes to progress at a speed comfortable for all attendees.
Join a MATA Training Course
Whether you're new to aesthetics or have experience in providing Botox and dermal filler treatments; MATA will have a course to suit you. Our Level 7 Diploma in Facial Aesthetics is perfect for beginners, taking delegates to the level of advanced practitioners over the course of nine months. For experienced practitioners who currently hold a training certificate, then our Masterclasses are an ideal way to enhance and perfect your technique in particular treatment areas. Why not get in touch today and begin your training journey with MATA.
Although any qualified aesthetic practitioner can order dermal filler, Botox is a prescription-only medicine. This can be a source of worry for healthcare providers who want to practice in aesthetic injectables but do not have prescribing rights; but truly, this should not be a barrier to you establishing a career in aesthetics.
At MATA, we are accustomed to training non-prescribing medical professionals, and their being unable to prescribe has not prevented them from achieving great success in the aesthetics industry. They have built and used their professional connections to find a prescriber; networking with delegates at MATA training sessions, or discussing prescribing possibilities with colleagues. Alternatively, they have used a Prescriber Service such as Aesthetic Associates to find a prescriber for their aesthetic practice. These services have a network of prescribers nationwide who, for a fee, will come to your business, provide a face-to-face patient consultation, and write a prescription.
Studying Towards a V300 Non-Medical Prescribers Qualification
Once you have gained experience of working in aesthetics and you are comfortable carrying out injectable treatments in association with a prescriber; the next step is to undertake a V300 course at University which will allow you to consult and prescribe yourself.
At MATA, we can assist you in your V300 study by acting as your Designated Medical Practitioner; providing 90 hours of shadowing in our clinic at No.1 Harley Street in London. MATA's V300 Mentorship Training will allow you to gain experience in carrying out patient consultations, and our experienced clinical mentors will ensure that you are in the best position to achieve your V300 Qualification. 
Admission criteria for the V300 varies according to the University applied to, and you may find that you do not meet their requirements for experience. If this is the case, then why not consider our Level 7 Diploma in Facial Aesthetics. Not only will this ensure you are practicing to the utmost levels of excellence in aesthetic injectables, but will also provide you with one year's experience towards course requirements for the V300.
To find out more about our V300 Mentorship Training or Level 7 Diploma in Facial Aesthetics; then get in touch to take the next step in your aesthetic career.
Almost every aesthetic practitioner has had a case of nerves before carrying out a treatment, particularly when they're newly trained. But if you are finding that you are getting anxious before one particular treatment area time and again, then you may benefit from taking a MATA Masterclass. 
MATA's Masterclasses are one-day courses that provide the ideal opportunity to perfect and enhance your skills in some of the most popular dermal filler treatment areas, allowing you to gain valuable hands-on experience in advanced techniques that will give you a competitive edge in your local aesthetics market
Lip Masterclass
As the popularity of aesthetic injectables has soared, perhaps no dermal filler treatment has become as popular as lip filler. Whether due to naturally thin lips or to a loss of lip volume due to age, clients across the UK are seeking natural, revitalising lip filler treatments that enhance their appearance.
Our expert-led, intensive 1-day Lip Masterclass will develop the knowledge and skills you need to achieve excellent results that instil confidence in your patients, giving you an advanced understanding of:
Lip Anatomy
Lip Assessment
Lip Injecting Technique
Product ranges for lips
Trends in lip filler
Managing lip filler complications
Non-Surgical Rhinoplasty Masterclass
With surgical rhinoplasty costing anywhere from £4000 to £7000, it is little wonder that more and more clients are turning to the 'liquid nose-job' to correct imperfections. Dermal filler can create incredible results when used on the nose, whether in creating definition, treating a squint nose, or even smoothing out and reducing the appearance of a dorsal hump.
MATA's Non-Surgical Rhinoplasty Masterclass is a blended learning experience, combining a thorough study of the theory behind nose fillers with practical training, giving you an advanced understanding of:
Nose anatomy
Facial ratios and angles
Surgical vs. non-surgical techniques
Potential complications
Product selection for nose filler
Correcting dorsal humps
Creating definition
Jawline Masterclass
Jawline fillers are arguably one of the few aesthetic injectable procedures with true cross-gender appeal. This treatment has grown in popularity with men and women of all ages looking to achieve a slimmer, more defined jawline, reduce the appearance of jowls, or to correct sagging skin.
Our expert-led Jawline Masterclass will provide you with the opportunity for in-depth study and practice of jawline fillers to give you the skills and confidence to create incredible results for your clients, giving you expertise in:
The anatomy of the jaw and chin
Facial ratios and angles
Complication management and prevention
Injection vs cannula technique
Product selection for jawline procedures.
Tear Trough Masterclass
Perhaps one of the most complex treatment areas, tear trough filler has nonetheless increased in popularity with clients across a wide age range who are seeking a brightened, refreshed under-eye look without the need to turn to surgical procedures or for the daily use of creams, concealer or brightener.
MATA's expert-led Tear Trough Masterclass has been designed to give advanced Botox and dermal filler practitioners the opportunity to study and practice this delicate procedure, giving you an enhanced understanding of:
The anatomy of the periorbital area
Orbital and facial proportions and angles
Complication management and prevention
Cannula technique
Product selection for tear trough procedures
Joining a MATA Masterclass
MATA Masterclasses are open to medical professionals who hold a Foundation or Advanced certificate in aesthetic injectables. To discuss registering, please contact our team who will be happy to take you through the enrollment process.
Although as aesthetic practitioners we are perhaps more familiar with Botox being used to reduce signs of aging, it is interesting to note that it was used to treat medical conditions long before it was used for aesthetic purposes. It was first licenced to treat crossed eyes and eyelid spasm in 1989, a full 13 years before it was approved to treat lines and wrinkles. Botox® has proven to be an incredibly versatile treatment, and can be used to treat conditions such as hyperhidrosis and bruxism with incredible results.
Botox for Hyperhidrosis
Hyperhidrosis is the medical term for excessive sweating that isn't caused by heat, stress, or exercise; a condition affecting hundreds of thousands of people in the UK alone. It can be an embarrassing, isolating condition that causes anxiety in its sufferers; who can sweat so much that it soaks through their clothes. Fortunately, Botox® is licensed for treating underarm hyperhidrosis.
Although the exact cause of hyperhidrosis is as yet unknown, it can be summarised that the nerves that send signals to the sweat glands are overactive. When Botox® is injected into the underarm, it blocks signals to the sweat glands; stopping them from producing sweat. It is an incredibly effective treatment; so much so that the procedure has become incredibly popular as an aesthetic treatment as opposed to one to target medical needs.
Botox for Bruxism
Bruxism affects over 10 millions adults in the UK, clenching and grinding their teeth through the day and night, with symptoms ranging from excessive teeth wear and gum inflammation to headaches, migraines, earache, and neck, shoulder and jaw pain; along with hypertrophy of masseter muscles causing a squared jawline.
Injecting small doses of Botox into the masseter muscles weakens the muscle just enough to stop the clenching and grinding action, not only alleviating the symptoms of bruxism, but also slimming the appearance of the jawline.
Training in Botox for Medical Conditions
At MATA, we train our Advanced delegates in the use of Botox to treat not only aesthetic concerns, but also medical conditions including hyperhidrosis and bruxism. Offering these treatments to your clients will only widen your appeal in your local aesthetics community, and will give you an edge over your competitors. If you are a medical professional and hold a Foundation Certificate in aesthetic injectable procedures; get in touch with us today to discuss joining our Advanced Course. Alternatively, if you are new to Botox® and dermal fillers, you may be interested in learning more about our Level 7 Diploma in Facial Aesthetics, a JCCP approved course that will take you from beginner to advanced practitioner over the course of nine months. Contact us
The term 'blended learning experience' can sound a little complicated, but at MATA it simply means that our delegates get to experience both theoretical learning online through our bespoke Virtual Learning Environment and hands-on practical training in a clinical setting.
Online Learning
Joining our Foundation Course or our Level 7 Diploma in Facial Aesthetics will grant you access to MATA's Virtual Learning Environment, where you will gain an understanding of facial anatomy, the aging process, patient assessment and consultation, and the principles and practice of aesthetic injectables. The VLE contains 150hrs of e-learning over the course of six interactive modules, each concluded with a set of multiple choice questions to test your knowledge.
E-learning with MATA has been designed for medical professionals to complete alongside their existing work commitments as a flexible, self-managed course.
Practical Training
Our practical training takes place in groups of no more than six medical professionals, all at similar levels of ability in aesthetic injectables. You'll begin your training with a presentation by your trainer which investigates facial anatomy, injection points and techniques, product information, danger zones and managing complications; followed by hands-on practice in Botox® and dermal filler.
You'll gain valuable hands-on experience in a range of treatment areas, carrying them out on MATA's models who have been pre-assessed to ensure their suitability for their chosen procedures. All practical training is delivered under the supervision of one of our expert trainers, selected by MATA on the basis of their experience in aesthetics.
The Best Beginning in Aesthetics
The combination of online and practical training that makes up MATA's blended learning experience will ensure that you have the theoretical knowledge and the practical skills needed to launch a successful career in aesthetics; and we are proud to have helped over 1000 delegates worldwide begin and enhance their work in the aesthetic industry. If you are ready to join our international community, then contact us today and take your first step in your journey towards aesthetics excellence.

If you're looking to improve retention, results and revenue at your clinic; there is one simple step you can take – adding a line of pharmaceutical grade skincare products.
Incorporating take-home skincare products that complement your aesthetic treatments into your clinics' offering can come with a range of benefits:
Adding a pharmaceutical skincare line can create a medium to high profit margin revenue stream at your clinic, to help recoup income from missed appointments or unexpected clinic closures.
Offering skincare products will allow you to take a holistic approach to your clients' needs, ensuring that the successful results of your treatments are continued at home.
As long as the skincare product visibly benefits the client, it will positively keep your clinic at the front of their mind for treatments even in between visits, improving client retention.
Here are the first steps we believe you should take when offering professional skincare and topical treatments to your clients
Choose Your Products
Take the same time and care in choosing pharmaceutical grade skincare products as you would have for the devices and injectable products already at your clinic. Research products fully; checking for active ingredients used (retinoids, vitamin c, hyaluronic acid, niacinamide, etc), along with ensuring that their ingredients and manufacturing process is in line with your clinics' ethos (for example, cruelty free, vegan, low plastic or recyclable materials), and that the product branding matches in with your own (alternative, punk type packaging wouldn't mesh with a sophisticated setting, and vice-versa).

We would recommend that you keep your initial product selection small, and focus on products that will enhance the treatment outcomes of your best selling treatments alongside being convenient and easy for your clients to use.You can always increase the products you offer at a later stage, once you have an better understanding of client product needs and preferences
Merchandise Your Products
If you have taken the time to research your new skincare products, then it doesn't make sense to hide them away. Integrate the skincare line into every element of your clients' clinic visit – use images of the products in your promotional literature and social media, have them well-displayed in your waiting area or reception, and have them on show and to hand in your treatment rooms. All of this will show your clients that the skincare line is an important part of treatment, rather than something to be treated as an afterthought.
Start Selling Your Products
Before attempting to sell these skincare products to your clients, ensure that you (and your employees) have a complete understanding of the skincare products; from ingredients and manufacturing processes to the benefits of the product and how they fit into a clients' skincare and aesthetic treatment regime; along with any contraindications and which client group the product is optimal for.
Once you are confident you can answer any question asked, then the product can be introduced to your clients. Build the products into your client conversations from the very beginning, when discussing their skincare needs and concerns. Let clients see and feel the products and ask questions, and even let them apply small amounts of the product if this will not interfere with your treatments. Together, this approach will help drive product sales.
Over 30% of adults in the UK have been made to feel self-conscious about their smile, so it's perhaps unsurprising that the cosmetic dentistry industry was valued at £2.2 billion in 2019; with increasing numbers of clients seeking out veneers, whitening and orthodontics to achieve their ideal smile. At MATA, we believe that Botox® and dermal fillers are the perfect partner to cosmetic dentistry, and that together they can transform not only your clients' smile, but their entire lower face.
1. Botox for Bruxism
Bruxism affects over 10 millions adults in the UK, clenching and grinding their teeth through the day and night, with symptoms ranging from excessive teeth wear and gum inflammation to headaches, migraines, earache, and neck, shoulder and jaw pain; along with hypertrophy of masseter muscles causing a squared jawline.
Injecting doses of Botox into the masseter muscles weakens the muscle just enough to stop the clenching and grinding action, not only alleviating the symptoms of bruxism, but also slimming jawline.
2. Gummy Smile Reduction
A gummy smile, or "excessive gingival display", is generally quantified as anything over 4mm of gum showing above the teeth when smiling. Although this can affect anyone of any age, it is more common in women aged 20-30. If a gummy smile is caused by an hyperactivity of the upper lip elevator muscles, it can be treated simply and quickly with Botox®
Injecting small amounts of Botox into both sides of the nostril will weaken the upper lip elevator muscles just enough to prevent the upper lip from lifting or curling under excessively when smiling, giving clients a noticeably less gummy smile.
3. Nasolabial Lines
Running from the nose to the corners of the mouth, nasolabial can sag over time and weigh down the face, often making clients appear older than their years.
A combination of Botox and dermal filler can be used to treat this, with Botox relaxing the muscles in this area to combat sagging and dermal fillers smoothing out wrinkles; giving the lower face a more youthful appearance.
4. Lip Fillers
As the popularity of aesthetic injectables has soared, perhaps no dermal filler treatment has become as popular as lip filler. Whether due to naturally thin lips or to a loss of lip volume due to age, clients across the UK are seeking natural, revitalising lip filler treatments.
Lip filler injections provide hydration and volume, even out asymmetrical lips, and reduce the appearance of fine lines, rejuvenating the appearance of the mouth.
5. Marionette Lines
Running straight from the corners of the mouth to either side of the chin, marionette lines are creases which, like nasolabial lines, can sag and weigh down the face; with clients often complaining the lines make them look permanently unhappy.
Dermal fillers can be used to smooth these lines, injected below the corners of the mouth to fill out the creases and lift the smile.
The skills and techniques you will need to perform these treatments can be learned through MATA's practical training courses; whether Foundation, Advanced, or even our Specialised Masterclass for Dentists. Why not get in touch today to find out more?
After a year of shuttered clinics, at MATA we thought it would be wise to take a pulse check on clients. We reached out to our models with a range of questions regarding aesthetic treatments and were delighted to receive over 450 responses. We've detailed our findings below.
Q1 – What treatments have you missed the most in lockdown?
Over 85% of respondents chose cosmetic botox and dermal filler as the treatments they had missed the most during lockdown, which is perhaps unsurprising as treatments schedules for aesthetic injectables will have been completely knocked out of sync by clinic shutdown. With the prospect of future lockdowns and subsequent clinic closures uncertain, perhaps there is an opportunity for aesthetic practitioners to advocate for the use of pharmaceutical grade skincare products between treatments.
Q2 – How often do you visit an aesthetic clinic?
With the majority of clients visiting aesthetic clinics every six months to annually, skin concerns could be missed. Why not make a treatment plan with your clients to ensure that their aesthetic aims will be met, and that any skin concerns can be promptly addressed and proactively treated?
Q3 – What attracts you to visit a specific clinic?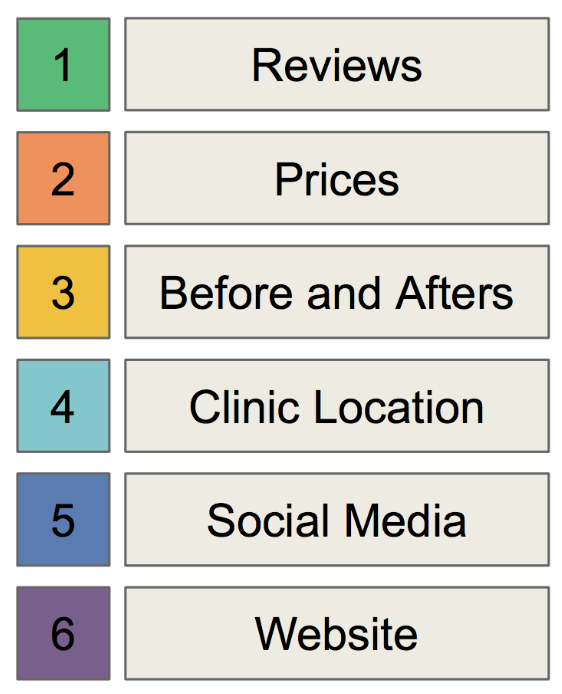 Given the current climate, it might be expected that prices would be the biggest attraction for our clients, however clinic reviews were ranked as the number one reason to visit a clinic by our models. Could boosting your reviews online enhance your client base and give you an edge over your competitors?
Q5 – What treatments do you regularly have?
As you can see, aesthetic injectables were by far the most popular treatments, with over 300 models receiving these on a regular basis. These findings reflect the demand for Botox® and dermal fillers that has been felt across the global aesthetic industry, and show that there will likely be no lack of clients for new aesthetic practitioners.
Although the nations' gratitude to doctors and the NHS is perhaps at an all-time high, COVID-19 has uncovered cracks within the NHS that were there long before the pandemic. Stress, burn-out and long hours alongside low pay, understaffing, and bureaucratic red tape have been thrown into the spotlight by coronavirus; and as thousands of doctors consider leaving the NHS, the hunt is on to find an alternative career path. At MATA, we believe that the answer lies in the Aesthetics Industry.
Why Doctors Should Consider Joining The Aesthetics Industry
With countless hours of professional experience, not to mention five years of study, Doctors are particularly suited towards aesthetic training. This is because:
Professional experience is in high demand in the aesthetics industry.
Doctors are trusted aesthetic practitioners, with clients willing to pay a premium to see a doctor above other medical professionals.
Doctors are trained injectors with experience in managing complications.
Doctors have established expertise in clinical interactions.
Doctors are experienced prescribers with knowledge of contraindications.
Doctors have pre-existing expert knowledge in anatomy and physiology that will only be enhanced by aesthetic training.
Doctors who have joined this rapidly growing industry have reported that moving to aesthetics has improved their life and has:
Improved their earning potential, whether through employment with established aesthetics clinics or through self-employment.
Allowed them to have a better work / life balance with the ability to set their own hours.
Created the chance to develop their own business, a rare opportunity in medicine.
Given them autonomy in their work and the opportunity to explore novel techniques.
Allowed them to lead change in a growing industry.
Aesthetic treatments have become thoroughly normalised in the UK, and there is an ever increasing demand for procedures including Botox® and dermal fillers. Given this, perhaps now is the time to invest in training and set your sights on a new career direction. MATA offers a range of aesthetic training courses perfectly suited to doctors; including our JCCP accredited Level 7 Postgraduate Diploma in Facial Aesthetics. To find out more, and take the first step towards a rewarding career in a fast-paced, exciting industry, contact us today on 020 3976 6979.