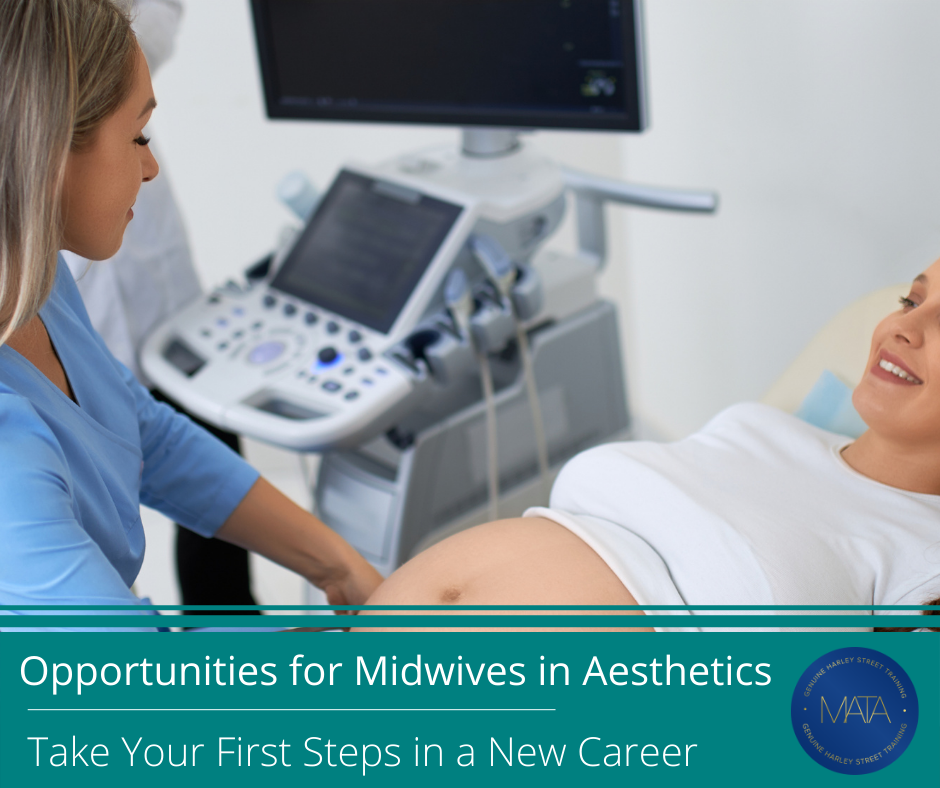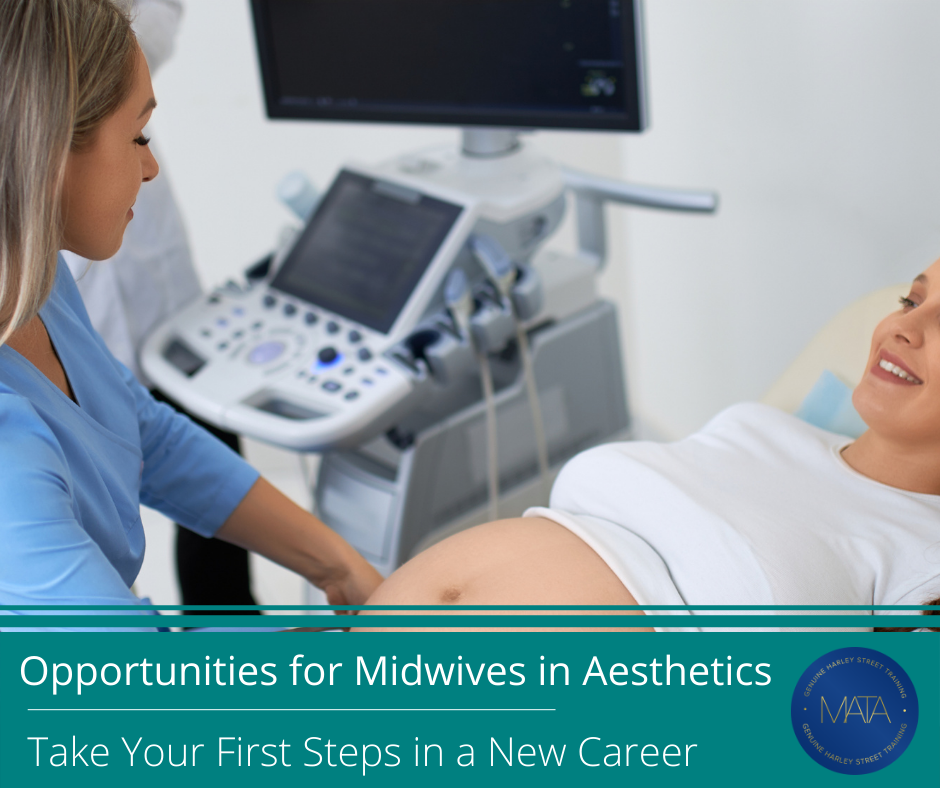 Ask most midwives in the UK why they entered the field, and they'll give you a similar answer – to help women at one of the most vulnerable points in their lives. Yet current conditions in the NHS means that midwives are facing low pay, long hours, bureaucracy and burnout, and in a 2019 study it was found that over 33% of midwives were experiencing work-related stress, anxiety and depression. Midwives in the UK deserve to work in an environment where they face less stress, have a better work-life balance, have the opportunity to directly help their patients, and where they are paid appropriately for their years of study and professional experience. The aesthetics industry provides an environment where all of this is possible.
Why Working in the Aesthetics Industry Could Be the Perfect Next Step For Midwives
The aesthetics industry is booming worldwide. Demand for Botox and dermal filler treatments has risen every year, with the UK expected to spend upwards of three billion pounds on aesthetic injectables in 2021. Midwives are ideally placed to take advantage of this demand, with their wealth of experience in clinical settings and in patient-centred care incredibly transferable to aesthetics practice. 
Midwives who have joined aesthetics have found that the move has positively impacted their lives, with the costs of training outweighed by benefits including:
A much better work-life balance with the freedom to set their own schedule.
The time to build real connections with their clients and to see the improvement in confidence that aesthetic treatment can create; often still helping women at a vulnerable point in their lives.
The ability to work independently without the stresses of red-tape, shift-work and targets.
The opportunity to learn new and exciting techniques.
A significant increase in earning potential, often enough to leave midwifery and focus solely on aesthetic practice.
Take the First Step in Your Aesthetics Training Journey
Given demand, there has never been a better time to invest in your future and experience these benefits for yourself. MATA offers a range of training options for nurses; whether you'd like to take things step-by-step with our Foundation Course; or if you want to develop both your practical skills and theoretical knowledge through our Level 7 Postgraduate Diploma in Facial Aesthetics. Whichever you choose, you can be confident that our courses are flexible around your schedule, and have been created to give you the best possible start in a new industry. 
At MATA, we've watched with pride as our midwife delegates have flourished in the aesthetics industry, whether they've joined existing clinics or have set up their own business; and we look forward to welcoming more midwives to our worldwide community of aesthetics professionals. 
To discuss taking the first step on your journey towards a fulfilling career in the aesthetics industry and explore training opportunities with MATA, call us today on 020 3976 6979.
Joining our Foundation Course, our Advanced Course, or our Level 7 Diploma in Facial Aesthetics will grant you access to MATA's bespoke Virtual Learning Environment (VLE). The VLE will give you an understanding of facial anatomy, the aging process, patient assessment and consultation, and the principles and practice of aesthetic injectables over the course of 150hrs of e-learning conducted over six interactive modules, each concluded with a set of multiple choice questions to test your knowledge. MATA's VLE learning has been designed for medical professionals to complete alongside their existing work commitments as a flexible, self-managed course.
Assessment and Learning Outcomes for Level 7 Delegates
Although our online learning allows our Foundation and Advanced Course delegates to gain a deeper understanding of the theory underpinning aesthetic injectable practice, completion of the six modules are a mandatory requirement for those studying towards their Level 7 Diploma in Facial Aesthetics. This course has been created to bring those beginning in aesthetics to a confident level over the course of nine months, and your completion of the VLE modules in conjunction with written assessments allows us to gauge your progress.
Written assessments on the Level 7 Diploma include a Risk Assessment, a Critical Literature Review and a Case Study:
The Risk Assessment can be on the topic of your choice within the context of working within an aesthetics clinic, for example sharps handling, infection control, or electrical equipment and fire hazards.
The Critical Literature Review can be on the topic of your choice within aesthetics, allowing you to delve deeper into an area of particular interest, or into an area that you would like to specialise in as a practitioner.
The Case Study requires that a model from your practical training is selected for write-up, and should include your assessment of their needs during the initial consultation, the treatment(s) performed, and a follow-up consultation which can be conducted through video conferencing as required.
Your practical training, online learning and assessment with MATA will ensure you have a thorough understanding of the following learning outcomes:
Unit 1: Introduction to Aesthetic Injectable Therapies (8 credits)
Unit 2: Patient Medical Assessment and Image Recording (10 credits)
Unit 3: Principles, Practice and Treatment Management of Aesthetic Injectables (12 credits)
Unit 4: Injectable Therapies for Management of Hyperhidrosis (4 credits)
Unit 5: Health, Safety and Clinical Compliance (10 credits)
Unit 6: Appraising the Clinical Literature (6 credits)
Unit 7: Professionalism in Cosmetic Aesthetic Practice (10 credits)
Join Our Global Community
Since our launch in 2015, MATA has trained more than 1000 aesthetics professionals in countries worldwide. If this introduction to our online study has inspired you to begin your own aesthetics training journey; then get in touch with us today to take your first step in joining our global community.
Aesthetics is a rapidly growing industry which provides medical professionals with the opportunity to establish a lucrative part- or even full-time business, however getting started could seem a little daunting. At MATA, our Foundation Course and our Level 7 Diploma in Facial Aesthetics provides beginners with the ideal route into aesthetics, giving you the theoretical and practical training you need to begin a successful career in a fast-paced, exciting environment.
MATA's Foundation Course
MATA's Foundation Course is perfect for medical professionals new to aesthetic professionals, and provides two days of practical training in Botox and dermal fillers supervised by our expert trainer, alongside six months access to online learning modules on MATA's bespoke Virtual Learning Environment. The course will allow you to begin practicing in some of the most popular aesthetic injectable treatment areas including lip and cheeks fillers and Botox for forehead lines and crows feet.
MATA's Level 7 Diploma in Facial Aesthetics
MATA's Level 7 Postgraduate Diploma is the ultimate course for medical professionals who would like to rapidly develop their understanding of aesthetic injectables, and will take you from a complete beginner to the level of advanced Botox and dermal filler practitioner over the course of nine months. This JCCP Accredited, OFQUAL regulated, comprehensive course combines in-depth learning of the theory behind aesthetic injectables with extensive hands-on practice in a range of the most popular treatment areas, ensuring you are fully prepared for a successful career in the aesthetics industry. 
The Diploma includes our Foundation Course and Mentorship Day and Advanced Course and Mentorship Day, for a total of six hands-on training days. This gives delegates the opportunity to practice a wide range of Botox and dermal filler treatments on up to ten MATA approved models per training day, all under the supervision of one of our experienced trainers.
This practical training is complemented by twelve months access to our Virtual Learning Environment, where you will have access to 150 hours of study content written to develop your understanding of the theory behind both aesthetic injectables practice and clinic management. You will also complete written assessments which will give you greater insight into clinical literature and risk management.  You can conduct your study and written assessments at your own pace and around your own schedule. 
Join MATA's Aesthetics Community
Since our launch in 2015, MATA has trained over 1000 international aesthetics professionals, who have gone on to work within existing clinics or have even launched their own successful practices. Get in touch with us today to take the first step in your aesthetics journey and join our global community.
With so many companies offering training in aesthetic injectables, it can be difficult to know who to choose. At MATA, we believe our Harley Street-developed practical aesthetics training gives delegates the best possible start in the aesthetics industry for the following five reasons:
1. We Provide Real Models
We provide live model patients who have been pre-assessed to ensure their suitability for treatments. We believe that this gives delegates the best opportunity for a wide breadth of learning; as all clients will vary in their treatment needs, their skin and anatomy, and even their pain thresholds and comfort levels during the Botox or dermal filler procedure.
2. We've created a Worthwhile Curriculum
Our curriculum has been developed from our home at No.1 Harley Street by a team of medical professionals led by a plastic surgeon with over two decades of experience in the field, and we have worked to ensure that our hands-on training allows delegates to perfect their technique in the most popular Botox and dermal fillers treatments in the UK, which will only enhance their success on entering the aesthetics industry.
3. Our Courses Are Delivered By Experts
MATA's trainers have all worked in the aesthetics industry for at least three years and have extensive training and qualifications; with many owning and operating their own aesthetic clinics in addition to training for MATA. This level of expertise allows them to deliver incredible hands-on training for our delegates.
4. Our Class Sizes Are Small
At MATA, we will not register any more than six delegates on a course. This ensures that every delegate is able to both practice and observe Botox and dermal filler treatments; alongside having the opportunity to meaningfully network with fellow attendees.
5. We Only Accept Medical Professionals
Although current regulations in the UK allow anyone to study towards and carry out aesthetic injectable procedures; at MATA we only accept medical professionals onto our courses. This is because we believe that only medical professionals, with their wealth of clinical experience and years of education in anatomy, vasculature, musculature, medications and contraindications have the appropriate skills to provide aesthetic injectable treatments and handle any emergencies that could occur. This selectiveness in admission is beneficial for our delegates, as all will operate at similar levels of skill which will allow classes to progress at a speed comfortable for all attendees.
Join a MATA Training Course
Whether you're new to aesthetics or have experience in providing Botox and dermal filler treatments; MATA will have a course to suit you. Our Level 7 Diploma in Facial Aesthetics is perfect for beginners, taking delegates to the level of advanced practitioners over the course of nine months. For experienced practitioners who currently hold a training certificate, then our Masterclasses are an ideal way to enhance and perfect your technique in particular treatment areas. Why not get in touch today and begin your training journey with MATA.