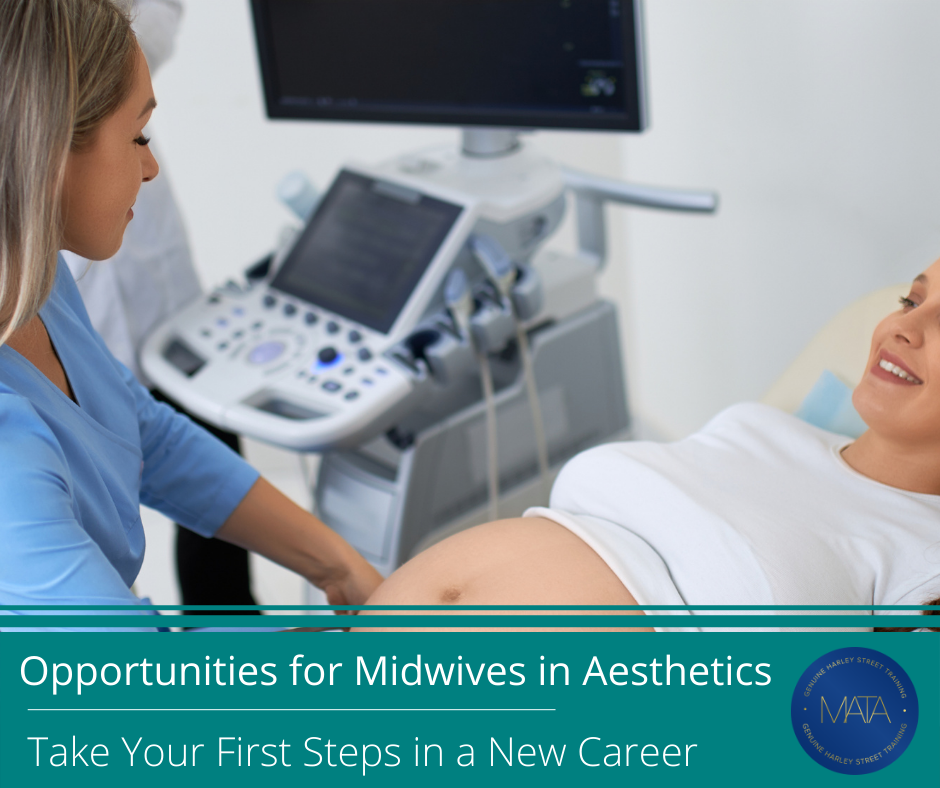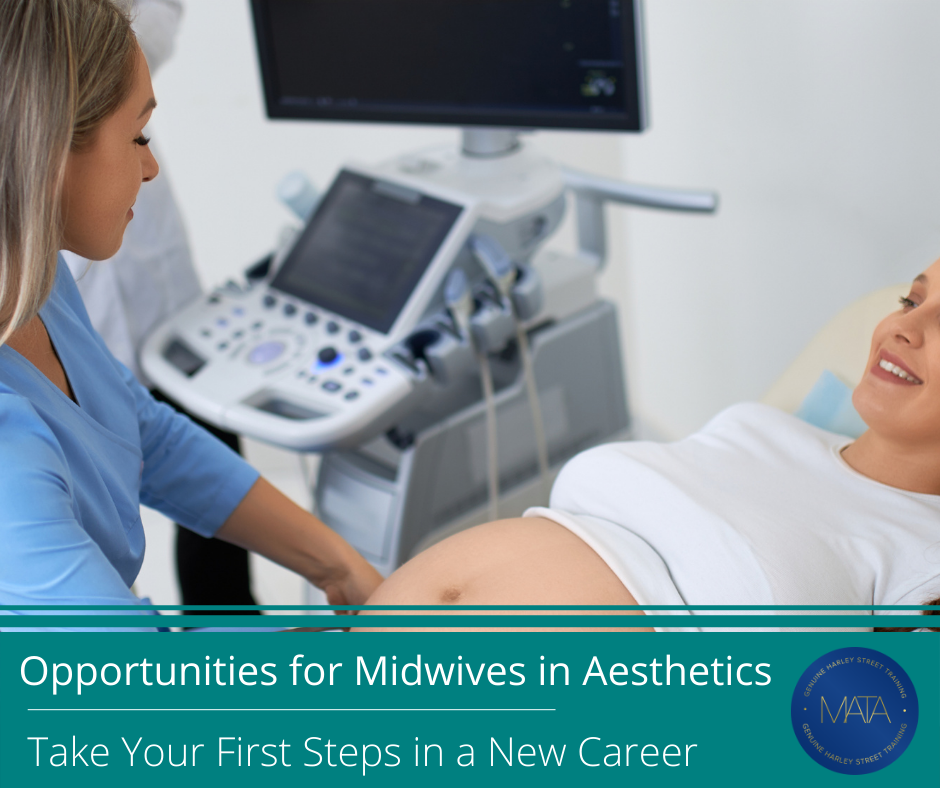 Ask most midwives in the UK why they entered the field, and they'll give you a similar answer – to help women at one of the most vulnerable points in their lives. Yet current conditions in the NHS means that midwives are facing low pay, long hours, bureaucracy and burnout, and in a 2019 study it was found that over 33% of midwives were experiencing work-related stress, anxiety and depression. Midwives in the UK deserve to work in an environment where they face less stress, have a better work-life balance, have the opportunity to directly help their patients, and where they are paid appropriately for their years of study and professional experience. The aesthetics industry provides an environment where all of this is possible.
Why Working in the Aesthetics Industry Could Be the Perfect Next Step For Midwives
The aesthetics industry is booming worldwide. Demand for Botox and dermal filler treatments has risen every year, with the UK expected to spend upwards of three billion pounds on aesthetic injectables in 2021. Midwives are ideally placed to take advantage of this demand, with their wealth of experience in clinical settings and in patient-centred care incredibly transferable to aesthetics practice. 
Midwives who have joined aesthetics have found that the move has positively impacted their lives, with the costs of training outweighed by benefits including:
A much better work-life balance with the freedom to set their own schedule.
The time to build real connections with their clients and to see the improvement in confidence that aesthetic treatment can create; often still helping women at a vulnerable point in their lives.
The ability to work independently without the stresses of red-tape, shift-work and targets.
The opportunity to learn new and exciting techniques.
A significant increase in earning potential, often enough to leave midwifery and focus solely on aesthetic practice.
Take the First Step in Your Aesthetics Training Journey
Given demand, there has never been a better time to invest in your future and experience these benefits for yourself. MATA offers a range of training options for nurses; whether you'd like to take things step-by-step with our Foundation Course; or if you want to develop both your practical skills and theoretical knowledge through our Level 7 Postgraduate Diploma in Facial Aesthetics. Whichever you choose, you can be confident that our courses are flexible around your schedule, and have been created to give you the best possible start in a new industry. 
At MATA, we've watched with pride as our midwife delegates have flourished in the aesthetics industry, whether they've joined existing clinics or have set up their own business; and we look forward to welcoming more midwives to our worldwide community of aesthetics professionals. 
To discuss taking the first step on your journey towards a fulfilling career in the aesthetics industry and explore training opportunities with MATA, call us today on 020 3976 6979.
Despite the overwhelming rise in popularity of aesthetic injectables, legislation and regulation of the aesthetics industry has not kept pace. This has led to botched dermal filler treatments going viral on social media and to a growing demand from practitioners and the media for greater government oversight of aesthetic injectables practice. In 2019, an All-Party Parliamentary Group (APPG) on Beauty, Aesthetics and Wellbeing was formed and in July 2021 they published their concluding report. This featured a number of recommendations for legislative action and regulatory oversight, including a call to reclassify dermal filler as a prescription-only medication.
Current Dermal Filler Classification
At the moment, Botulinum Neurotoxin is a prescription-only medication, only available from a trained prescriber after a face-to-face consultation with clients to ensure treatment suitability. In contrast, Dermal Fillers are currently classed as a medical device and are freely available for purchase and use by non-medics, with no need for a prescriber to assess clients beforehand.
This lack of medical oversight is a point of concern not only the APPG, but for voluntary bodies within the aesthetics industry including the Joint Council for Cosmetic Practitioners and the British Association of Beauty Therapy & Cosmetology; who have highlighted that "risks of fillers are significant and arguably even greater than those posed by botulinum".
These risks have been on full display across the media over recent years. Leah Morton, a 26 year old woman from Liverpool, was left at risk of losing her nose after a practitioner caused and then failed to recognise a vascular occlusion during a non-surgical rhinoplasty. Dr Tijion Esho, an experienced aesthetic practitioner and medical professional, shared a clip that showed him treating lip cysts caused by superficial filler placement. Meiska Mamajeski, a 53 year old woman from Leeds was blinded in one eye when her practitioner injected directly into her eye rather than the skin around the eye in 2015.
Proposed Changes
Dermal fillers must be performed under the oversight of a prescriber who has gained the accredited qualifications to prescribe, supervise and provide remedial medicines if necessary.

All-Party Parliamentary Group on Beauty, Aesthetics and Wellbeing
The APPG has recommended that dermal filler be reclassified from Medical Device to a Prescription Only Medication, with the view that this would "remove a significant danger to the general public." It would make it necessary for all dermal filler providers to ensure that their clients are seen and assessed by a medical prescriber before treatment, helping to ensure that clients are suitable for treatment and that medication such as hyaluronidase can be quickly accessed should the procedure go wrong. This would allow for rapid treatment of vascular occlusions, should the practitioner have the skill to recognise and treat this complication.
MATA's Opinion
MATA was established with the aim of standardising training in aesthetic injectables within the UK Aesthetics Industry, and as such we welcome greater legislation and regulation. Making dermal fillers prescription-only would be a positive step in the direction of establishing a properly monitored aesthetics industry. 
Still, we must highlight that medical and aesthetic professionals have been seeking greater oversight of aesthetic injectables for years. Sir Bruce Keogh noted in his 2013 report that "dermal fillers are a crisis waiting to happen" and suggested that they be made prescription-only; yet almost a decade later, fillers are still freely available and the aesthetic industry is still under-regulated. 
It remains to be seen whether the UK Government will work with the MHRA and Manufacturers to reclassify dermal fillers as prescription only. For now, we will continue to train our delegates to a high standard in both the theory and practice of aesthetic injectables through our Level 7 Diploma in Facial Aesthetics, ensuring that they enter practice with the skills they need to recognise and manage complications. We are also committed to supporting the activity of voluntary bodies in the aesthetics industry in their work to regulate and monitor our industry.
Although as aesthetic practitioners we are perhaps more familiar with Botox being used to reduce signs of aging, it is interesting to note that it was used to treat medical conditions long before it was used for aesthetic purposes. It was first licenced to treat crossed eyes and eyelid spasm in 1989, a full 13 years before it was approved to treat lines and wrinkles. Botox® has proven to be an incredibly versatile treatment, and can be used to treat conditions such as hyperhidrosis and bruxism with incredible results.
Botox for Hyperhidrosis
Hyperhidrosis is the medical term for excessive sweating that isn't caused by heat, stress, or exercise; a condition affecting hundreds of thousands of people in the UK alone. It can be an embarrassing, isolating condition that causes anxiety in its sufferers; who can sweat so much that it soaks through their clothes. Fortunately, Botox® is licensed for treating underarm hyperhidrosis.
Although the exact cause of hyperhidrosis is as yet unknown, it can be summarised that the nerves that send signals to the sweat glands are overactive. When Botox® is injected into the underarm, it blocks signals to the sweat glands; stopping them from producing sweat. It is an incredibly effective treatment; so much so that the procedure has become incredibly popular as an aesthetic treatment as opposed to one to target medical needs.
Botox for Bruxism
Bruxism affects over 10 millions adults in the UK, clenching and grinding their teeth through the day and night, with symptoms ranging from excessive teeth wear and gum inflammation to headaches, migraines, earache, and neck, shoulder and jaw pain; along with hypertrophy of masseter muscles causing a squared jawline.
Injecting small doses of Botox into the masseter muscles weakens the muscle just enough to stop the clenching and grinding action, not only alleviating the symptoms of bruxism, but also slimming the appearance of the jawline.
Training in Botox for Medical Conditions
At MATA, we train our Advanced delegates in the use of Botox to treat not only aesthetic concerns, but also medical conditions including hyperhidrosis and bruxism. Offering these treatments to your clients will only widen your appeal in your local aesthetics community, and will give you an edge over your competitors. If you are a medical professional and hold a Foundation Certificate in aesthetic injectable procedures; get in touch with us today to discuss joining our Advanced Course. Alternatively, if you are new to Botox® and dermal fillers, you may be interested in learning more about our Level 7 Diploma in Facial Aesthetics, a JCCP approved course that will take you from beginner to advanced practitioner over the course of nine months. Contact us
Over 30% of adults in the UK have been made to feel self-conscious about their smile, so it's perhaps unsurprising that the cosmetic dentistry industry was valued at £2.2 billion in 2019; with increasing numbers of clients seeking out veneers, whitening and orthodontics to achieve their ideal smile. At MATA, we believe that Botox® and dermal fillers are the perfect partner to cosmetic dentistry, and that together they can transform not only your clients' smile, but their entire lower face.
1. Botox for Bruxism
Bruxism affects over 10 millions adults in the UK, clenching and grinding their teeth through the day and night, with symptoms ranging from excessive teeth wear and gum inflammation to headaches, migraines, earache, and neck, shoulder and jaw pain; along with hypertrophy of masseter muscles causing a squared jawline.
Injecting doses of Botox into the masseter muscles weakens the muscle just enough to stop the clenching and grinding action, not only alleviating the symptoms of bruxism, but also slimming jawline.
2. Gummy Smile Reduction
A gummy smile, or "excessive gingival display", is generally quantified as anything over 4mm of gum showing above the teeth when smiling. Although this can affect anyone of any age, it is more common in women aged 20-30. If a gummy smile is caused by an hyperactivity of the upper lip elevator muscles, it can be treated simply and quickly with Botox®
Injecting small amounts of Botox into both sides of the nostril will weaken the upper lip elevator muscles just enough to prevent the upper lip from lifting or curling under excessively when smiling, giving clients a noticeably less gummy smile.
3. Nasolabial Lines
Running from the nose to the corners of the mouth, nasolabial can sag over time and weigh down the face, often making clients appear older than their years.
A combination of Botox and dermal filler can be used to treat this, with Botox relaxing the muscles in this area to combat sagging and dermal fillers smoothing out wrinkles; giving the lower face a more youthful appearance.
4. Lip Fillers
As the popularity of aesthetic injectables has soared, perhaps no dermal filler treatment has become as popular as lip filler. Whether due to naturally thin lips or to a loss of lip volume due to age, clients across the UK are seeking natural, revitalising lip filler treatments.
Lip filler injections provide hydration and volume, even out asymmetrical lips, and reduce the appearance of fine lines, rejuvenating the appearance of the mouth.
5. Marionette Lines
Running straight from the corners of the mouth to either side of the chin, marionette lines are creases which, like nasolabial lines, can sag and weigh down the face; with clients often complaining the lines make them look permanently unhappy.
Dermal fillers can be used to smooth these lines, injected below the corners of the mouth to fill out the creases and lift the smile.
The skills and techniques you will need to perform these treatments can be learned through MATA's practical training courses; whether Foundation, Advanced, or even our Specialised Masterclass for Dentists. Why not get in touch today to find out more?
At MATA, we pride ourselves on providing plastic-surgeon led aesthetic injectable training that focuses on patient safety. We only accept doctors, nurses, dentists, midwives, pharmacists and paramedics onto our courses, as we believe that only those working as medical professionals have the underlying education and skills needed to be able to work safely in the aesthetics industry.
Life-Endangering Mistakes
This belief has been proven by a story shared by the Consultant Clinic over the course of the last week. A client had attended an unnamed Liverpool-based beautician for non-surgical rhinoplasty, and suffered a vascular occlusion which wasn't detected until four days after the initial injections. The client had had a full 1ml of filler injected, far above the recommended volume for this type of procedure.
On attending the Consultant Clinic, their medically trained staff immediately administered hyaluronidase to dissolve the filler, however the client had to be taken to Accident and Emergency as the tissue in the nose was showing signs of necrosis. The Consultant Clinic team pushed for treatment, and the hospital placed the client in a Hyperbaric Chamber to hopefully prevent the loss of her nose. As of yet, it's unknown what the longer-term implications will be for this poor young woman – she may still lose part of her nose, she will likely have scarring, and it's only thanks to the actions of the medical professionals at the Consultant Clinic that the situation wasn't worse.
A Need for Greater Industry Legislation and Regulation
These circumstances highlight the need for greater legislation and regulation in the aesthetics industry. A study by Save Face showed that in 2018, 46% of botched filler treatments that required repair had been carried out by beauticians. Medical professionals have the opportunity to gain a huge amount of experience in a clinical setting, not to mention years of education in anatomy, vasculature, musculature, medication, contraindications and clinical practice. Non-medical aesthetic practitioners simply cannot match this level of expertise. Given that mistakes made with dermal fillers can cause tissue necrosis, blindness, and even death; it is our opinion that only medical professionals should be administering aesthetic injectables, to prevent risk to clients.
MATA was launched with the intention of improving training within the aesthetic industry, and we will support measures to make a safer, more regulated industry a reality. In the meantime, we will continue to provide patient-centred training to medical professional; ensuring our delegates leave us with the advanced injecting skills that will prevent severe complications, and the confidence to manage any emergency that may arise.
With so many fillers on the market, it can be difficult to know which to choose at your clinic. At MATA, we exclusively use Juvéderm products from Allergan; a trusted, high-end brand which features a wide range of filler options. We've put together a quick guide to Juvéderm's Vycross Range, perfect for smoothing, volumising, defining or hydrating to meet the needs of your clients.
Hydrate with Juvéderm Volite
Volite is a nourishing hyaluronic acid gel designed to provide enhanced hydration and elasticity to the face, hands, neck and decolletage. This product is suitable for all ages, and creates results lasting up to nine months.
Smooth and Refine with Juvéderm Volbella
Volbella is perfect for refining features and reducing fine lines. Volbella can be injected superficially, to the mid-dermis or to the lip mucosa to smooth forehead, periorbital and perioral lines, or to fill tear troughs and lips, creating natural results lasting up to 12 months.
Fill and Shape with Juvéderm Volift
Volift is ideal for filling deeper lines and shaping features. Injected into the deep dermis or the lip mucosa, Volift can be used to smooth heavier wrinkles across the face, or to shape the cheeks and lips. Volift results last up to 18 months.
Volumise and Correct with Juvéderm Voluma
Voluma was specifically designed to correct mid-face volume, injected into subcutaneous tissue, the upper periostea and the deep dermis to volumise and correct the temple, cheeks and cheekbones. This treatment is suitable for all ages, and results last up to 24 months.
Sculpt and Define with Juvéderm Volux
Volux is the newest member of the Vycross family, created specifically for the lower face. Injected to subcutaneous and supraperiostal tissue, Volux is designed for lower face areas such as the chin and jaw that require increased projection and definition. Volux has the highest levels of cohesivity and elasticity in the Vycross collection, giving your clients natural definition, contouring and sculpting that lasts up to 24 months.
Train in Juvéderm Filler
MATA provides training in the use of Juvéderm products, with delegates having ample opportunity to practice dermal filler treatments on our Foundation and Advanced Courses, at our Masterclasses, or even on our Level 7 Postgraduate Diploma in Facial Aesthetics. If you would like to begin your Juvéderm training journey, why not contact us to find out more?
The cosmetics industry has faced a lot of scrutiny and stigma, and even just as recent as the 90s it was regarded as something only for the rich and famous, and didn't come without judgement. As something which was once denied and kept on the down-low, it has now become the norm to show off treatments on social media, with over 720k posts on Instagram with the hashtag #lipfiller.
This change in general views of cosmetic procedures has progressed as the introduction of "tweakments" has taken over the industry. This refers to the more subtle changes and enhancements that are sought after by not just celebrities and influencers, but also the general population. These subtle changes are usually achieved through injectable treatments – botox and dermal filler – and as the cost of this is significantly lower than a surgical procedure such as a facelift, they are much more accessible to the masses and quickly became mainstream treatments. This has helped to destigmatize cosmetic procedures, also contributing to the growth in the industry. Since the early 2000s injectable treatments have been on a rising trajectory, and soon enough it became the most popular treatments, accounting for 9 out of 10 cosmetic procedures.
Celebrity Influences
This new trend has also been fuelled by the likes of the Kardashians and reality TV stars who have influenced younger generations to dabble in injectables. A notable trend which gained heavy coverage in the tabloids and was a focal point on social media was Kylie Jenner's lip transformation. This led to a very young audience being exposed to the idea of enhancing their looks through dermal fillers as Kylie is only young herself and got her lips filled at the age of 18.
The exposure online to all sorts of treatments available has lead to the normalisation of cosmetic procedures which has had a massive impact in the industry. It's now possible that younger generations are seeing their parents and friends getting these treatments and it has become the norm. In a questionnaire aimed at Gen Z, it was revealed that 59% of them viewed injectable cosmetic procedures the same way they think of getting a manicure or a haircut – just another routine beauty treatment.
A New Audience
There is now a whole new target audience for injectable treatments for both women and men in their 20s as it is used as a preventative treatment as well as enhancing their existing features, whether they want more volume in their lips and cheeks, or a more defined jawline, injectables are very versatile and can be used almost anywhere on the face.
The other way in which injectable treatments have changed the cosmetic industry is that it is now easier to make a decision to try it out. Botox and dermal filler, unlike surgical treatments, are not permanent, therefore, there is less fear about trying it as within a few months the results are less obvious if not completely gone. If they do like the result and want to continue then they can have a top up and continue with treatments in the future. 
A Decrease in Surgical Treatments
One of the most popular cosmetic surgeries has always been the nose job – this is because it is the centre of the face and the main feature. It also comes in many different shapes and sizes, however, everyone wants to have the same perfect straight, sloped nose. However, the number of people opting for rhinoplasty surgery has been dropping off since 2015, with 4205 people going under the knife for a nose job in 2015, to just 2831 people in 2018. These figures are not going down because no one wants the perfect nose anymore, but rather there is a new, simpler, and cheaper way to achieve great results in reshaping the nose. Yep that's right – it's the use of dermal fillers to make small adjustments to the nose and can reduce the appearance of bumps, heighten the tip, and even straighten the nose. It has been coined as "the liquid nose job" and takes only 20 minutes to perform, costs a fraction of the price and has a lot less downtime. A rhinoplasty can cost upwards of £4,000 and will require a night stay in hospital as well as a week of bruising and wearing a cast. This option isn't always feasible so the liquid nose job has given many people the opportunity for a quick fix. 
Injectable treatments are one of the most versatile in the industry and the perfect solution for a small tweak here or there, it's no wonder that they are as popular as they are. The age range of people opting to go for cosmetic treatments is becoming lower and lower as social media and selfies have created a hyperawareness of our flaws and a need for perfection as we follow airbrushed celebrities online. But rather than the need for major surgeries which require a lot of downtime, these injectable treatments have opened up new avenues and given more people the option to relive themselves of insecurities through a quick injection rather than going under the knife.