COVID-19 has brought home the importance of the NHS across the UK, and it would be safe to say our gratitude towards medical staff is at a national high. Still, the last year has highlighted problems with the working conditions medical professionals face daily. From stress, lack of patient time, and bureaucratic red tape; to unsocial working patterns, a poor work / life balance, and lower rates of pay; it's little wonder that some medical professionals are looking for an alternative to traditional healthcare.

Make a Change with MATA
Although working in aesthetics could seem like a leap; doctors, nurses, dentists, midwives, pharmacists and paramedics are all perfectly placed to join this growing industry. Using skills and knowledge gained through years of education and professional experience, enhanced by training in aesthetics, medical professionals can launch a successful career in aesthetics. Many graduates of MATA's training courses (who are all registered medical professionals) have gone on to open their own aesthetics business, and have reported that working within the aesthetics industry has:
Given them a better work / life balance
Given them flexibility around their working hours.
Given them autonomy in working and let them spend more time with patients
Allowed them to develop new skills
Enhanced their income.
Take The First Steps in Your New Career
MATA's JCCP Accredited Level 7 Postgraduate Diploma in Facial Aesthetics is the quickest, most cost-effective way to develop in aesthetics from beginner to expert practitioner; gaining practical experience in the most popular treatment areas for Botox and dermal filler alongside developing an advanced understanding of the theory behind aesthetic injectables, perfect for beginning a career in aesthetics. If you're interested in joining MATA's international community of medical aesthetic professionals, get in touch on 020 3976 6979 or by email; and take the first steps in your journey towards launching your aesthetics career.
Although the benefits to working in aesthetics are numerous – setting your own hours, gaining a better work-life balance, or enhancing your earning potential – getting started may seem a little daunting. We've put together some top tips for launching your career in this fast paced, exciting industry.
Invest in High Quality Training
If you've decided to study aesthetics, you should ensure that the course you attend will give you the greatest grounding for success in the industry. We'd recommend checking:
How much practical training your course will give you
Whether you'll be able to practice on live models and whether the company will provide these
How much theory you'll have the chance to engage with
Whether the course has approval from regulatory organisations like the JCCP.
Plan Your Branding and Marketing
Once you've completed your training, it's time to plan branding and marketing strategy – there's no need to wait until you have a venue. Decide on a name for your practice, launch your website and social media channels, and begin to generate local interest. Consider taking online business and marketing courses to further your knowledge in this area and enhance your presence in your local aesthetic market.

Find a Prescriber
Although any qualified aesthetic practitioner can order dermal filler, Botox is only available to prescribers following a face-to-face consultation with patients. This can be a source of worry for healthcare providers who want to practice in aesthetic injectables but don't have prescribing rights; but truly, this shouldn't be a barrier to you establishing a career in aesthetics.
Build and use your professional connections to your advantage to find a prescriber – network with fellow delegates at aesthetic training sessions, or speak to medical colleagues who could prescribe for you. Alternatively, you could even use a service such as Aesthetic Associates to find a prescriber for your aesthetic practice.

Find a Venue
At MATA, we would highly recommend seeing your clients in a clean, professional setting. Treatment rooms are often available for rent in existing clinics and salons, or why not explore leasing rooms and setting them up to your satisfaction?

Take Out Indemnity Insurance
Once you've found a venue, it's time to get indemnity insurance. Providers such as Hamilton Fraser, InSync and Cosmetic Insure all have a wealth of experience in providing cover to medical aesthetic practitioners, ensuring you are protected should things go wrong.
Register with the CQC (England) or HIS (Scotland)
Once you've found a long-term premises, begin registration with the CQC if you're in England, or HIS if you are in Scotland. Registration with England's Care Quality Commission isn't a legal requirement for botox and dermal filler procedures, however registration with Healthcare Improvement Scotland is needed. Although registration can take time, it will show prospective clients that you have met high standards that ensure patient safety; giving them a further reason to choose you for their aesthetic procedures over your competitors.
Keep Learning
Once you've completed your training and began work in the aesthetics industry, it could be tempting to rest on your laurels; but continuing your professional development could set you apart from your competitors. Keep abreast of the latest aesthetic trends and industry news, and register for additional practical training and you'll show your clients your commitment to expert aesthetic practice.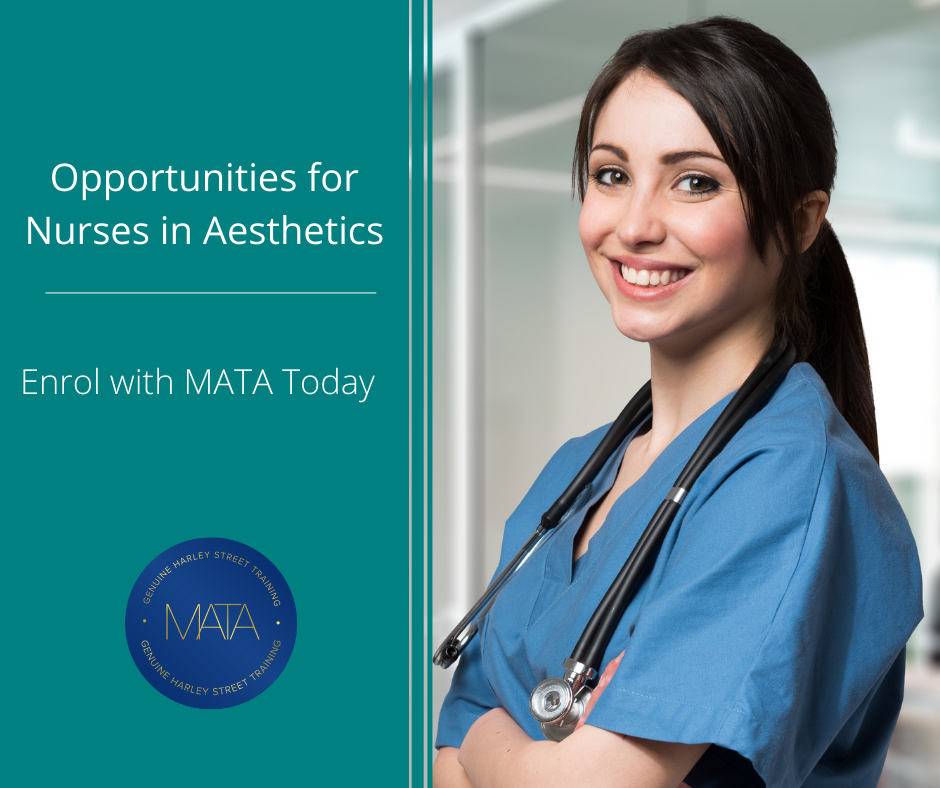 Why Working in the Aesthetics Industry Could Be the Perfect Next Step in Your Nursing Career
Ask most nurses in the UK why they entered the field, and they'll give you a similar answer – to help people. Yet conditions in the NHS are such that nurses are facing low pay, long hours, bureaucracy and burnout. From a lack of pay increases amounting to a real-term pay cut of £2500 since 2010, to regular antisocial 12 hour shifts, with red tape impacting the amount of time spent with patients; it's no wonder that a massive 44% of nurses reported work-related stress and anxiety in 2019.
Nurses in the UK deserve to work in an environment where they face less stress, have a better work-life balance, have the direct contact with patients that they've trained for, and where they are paid appropriately for their years of study and professional experience. The question is where can such an environment be found. Our answer? The aesthetics industry. 
The aesthetics industry is booming worldwide. Demand for Botox and dermal filler treatments has risen year-on-year, with the UK expected to spend upwards of £3billion on aesthetic injectables in 2021. Nurses in the UK are perfectly placed to meet this demand, with their wealth of experience in clinical settings, non-invasive procedures and patient care highly transferable to private aesthetics practice. 
Nurses who have joined this growing industry have reported that moving to aesthetics has changed their lives for the better, with the initial costs of training far outweighed by benefits including:
A hugely improved work-life balance with the freedom to choose their own schedule.
The time to build real connections with their patients and to see the improvements in both appearance and confidence that aesthetic treatment can create.
The opportunity to work independently without the stresses of red-tape and targets.
The chance to train in new and innovative procedures.
A huge increase in earning potential, which is often significant enough to leave traditional nursing all together to focus solely on aesthetic practice.
Given industry demand, there has never been a better time to invest in your future and experience these benefits for yourself. MATA offers a range of training options for nurses; whether you'd like to take things step-by-step with our Foundation Course; or whether you want to quickly develop to the level of advanced practitioner through our Level 7 Postgraduate Diploma in Facial Aesthetics. Our courses are flexible around your schedule, and combine theory with hands-on training to give you the knowledge and skills you'll need for a successful career in aesthetics.
At MATA, we've been proud to watch our delegates from nursing flourish in the aesthetics industry, whether they've joined established clinics or even set up their own business; and we look forward to welcoming more nurses to our worldwide community of aesthetics professionals. 
To discuss taking the first steps on your journey towards a fulfilling career in the aesthetics industry and explore training opportunities with MATA, call us today on 020 3126 4870.
MATA Level 5 Qualification in Laser Tattoo Removal Training Success!
Last week saw MATA hold its Level 5 (foundation degree level) qualification in Laser Tattoo Removal in Harley Street, London with delegates from across the UK in attendance.  Having already completed a major part of the theory component online in the MATA virtual learning environment prior to attending, delegates refreshed their knowledge during a presentation and undertook quizzes at the Royal Society of Medicine before carrying out practical training on live models provided in our Harley Street training rooms.
Chris Perchard, tattooist from Kingston, Surrey says 'we wanted to be well-versed in the best practices of laser tattoo removal and the good thing about MATA is that we have already done a lot of theory work as well as a great practical so we feel confident using the lasers.  I would recommend MATA to anyone training in this field, they really are the gold standard- we have been trained to a very high level.'
Next training dates for Level 5 Laser Tattoo Removal will be in May 2017 and are open to allied health care professionals, those with Beauty NVQ 3 or similar and tattooists.  Our access course is soon to be launched to enable those of other career backgrounds to undertake this qualification.
Check out the below link for more information or email us on [email protected]
http://www.matacourses.com/level-5-laser-light-based-therapies/
MATA are thrilled to announce we are launching a brand new suite of Level 5 Laser and Light Based Therapy qualifications and Level 7 Postgraduate Certificate in the Principles and Practice of Clinical Injectable Therapies (Botulinum Toxin and Dermal Fillers) this month!
Based on the recommendations in the HEE report, our exciting new aesthetics qualifications are awarded by EduQual and also endorsed by an Ofqual-recognised awarding organisation.  MATA training is comprised of blended-learning including theory modules studied on our university-standard online virtual learning environment (VLE), practical training on many volunteer patients provided for maximum hands-on experience, clinical assessments, completion of a log book of treatments plus written examinations.  The suit of MATA qualifications cover Botulinum and Toxin, Dermal Fillers at level 7, Laser Tattoo Removal, Laser Hair Reduction, Laser Pigmentation Reduction, Laser Vascular Reduction  and more at level 5.
As the aesthetics and cosmetic surgery industry continues to boom, over recent years there has been concern that there is not enough regulation in this field, particularly when it comes to injectable treatments such as Botox and Dermal Fillers due to the complications that can arise.
A need for improved education and training in this sector as highlighted by the Keogh report is the reason that MATA founder, Mr. Faz Zavahir launched the aesthetics training academy, particularly as he found that he had to travel worldwide to get the 'hands-on' training required when he was learning these skills.
Mr. Zavahir says "I'm very pleased we are able to offer an entire suite of qualifications and courses from which learners can choose to meet their own training needs – all within one academy. Ensuring our qualifications reflect the latest HEE guidelines was vital, but we also want to ensure our qualifications and courses are open to those wanting to learn and train to a high standard. Our Level 5 and Level 7 qualifications are demanding, expecting high standards in clinical knowledge and skills, but they are also immensely rewarding in both personal and professional development. Only by developing qualifications and courses that offer competence based training will this sector see an improvement in standards of care and patient safety."
If you are interested in pursuing a qualification in either laser or injectable therapies, please email [email protected] or call us on 0203 126 4870 for more information on how to apply.