In a world filled with filters, Facetune and PhotoShop; it's becoming more and more likely that clients may visit your clinic with unrealistic expectations of what can be achieved with Botox and dermal fillers. As a responsible aesthetic practitioner, you have a duty to ensure your patients understand whether the results they have in mind are possible and to adjust this to a more realistic level if needed. It can be difficult to know how to accomplish this, so to help, here are MATA's top five tips for managing client expectations in aesthetics.
1. Maintain An Honesty Policy
Although of course having a book filled with clients is an admirable goal, there is no substitute for having and keeping a reputation of safe, responsible aesthetics practice. If a client comes to you with an impossible request, then be confident in your ability to tell your client exactly what you as a practitioner can achieve with aesthetic injectables, and refrain from overselling what you or the product can do. Even the best practitioner has limits, and it will only benefit your clinic to make sure your clients understand this.
2. Have a Real Conversation with Your Clients
Although consent forms are a legal necessity for your clinic, they should never take the place of a real conversation with your clients which covers the risks and rewards of their chosen aesthetic treatment. This conversation will not only allow you to identify any unrealistic expectations and manage them appropriately, but will also ensure that your clients commit to the procedure from a fully informed position.
3. Make Use of Visual Aids
It's likely that you already have a stock of before and after photos from your existing clients to allow you to provide treatment continuity. If you have the necessary permissions to use these images for business purposes, then these before and after shots can give prospective clients a real look at the changes that are possible with aesthetic injectables.
Having a Lookbook of before and after images covering a variety of treatments will also help illustrate that some looks take time and multiple visits to accomplish. Clients may visit you with the expectation that lips can go from thin to Jenner-style voluptuous in a single treatment. Being able to show them that this isn't possible, with reference to real cases, will often make your client far more receptive to building a treatment plan with you.
4. Be Aware of Apps, Influencers and Advertisers
With the rise of apps that allow the face and body to be heavily filtered and reshaped, even in video; influencers and advertisers have been in the spotlight for promoting looks that are unrealistic or even physically impossible. Maintaining a professional awareness of image-editing apps, the effects they can create, and even having a bank of unedited vs edited images available, can all help you manage client expectations in your aesthetics practice.
5. Feel Comfortable Saying No
It's inevitable that during your career in aesthetics, some clients will simply not listen to your advice regarding treatment. Although it may be tempting to carry out the procedure; when the results inevitably don't match expectations, these clients can and will cause problems for your business. In the end, it is far better to let these clients go than to lose your reputation as an aesthetics practitioner.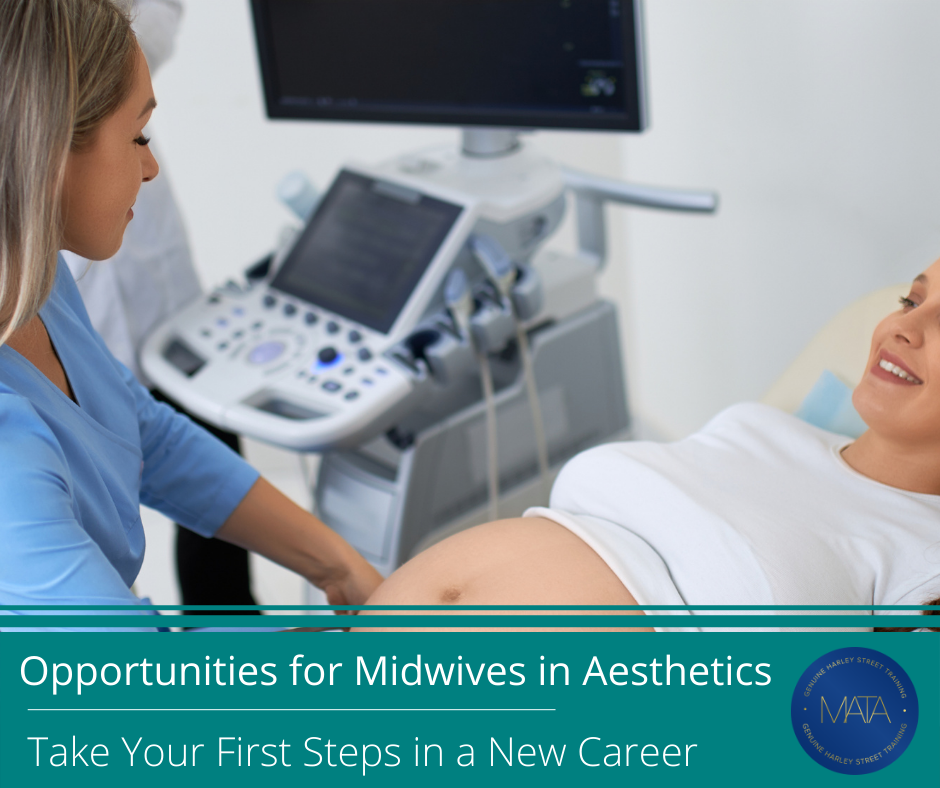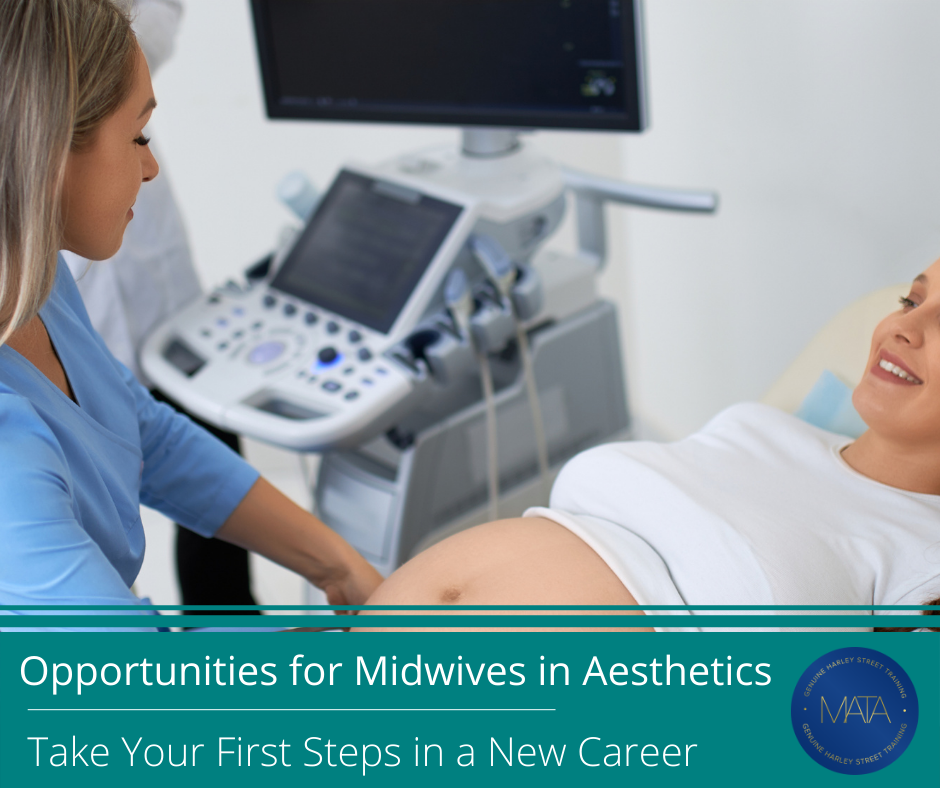 Ask most midwives in the UK why they entered the field, and they'll give you a similar answer – to help women at one of the most vulnerable points in their lives. Yet current conditions in the NHS means that midwives are facing low pay, long hours, bureaucracy and burnout, and in a 2019 study it was found that over 33% of midwives were experiencing work-related stress, anxiety and depression. Midwives in the UK deserve to work in an environment where they face less stress, have a better work-life balance, have the opportunity to directly help their patients, and where they are paid appropriately for their years of study and professional experience. The aesthetics industry provides an environment where all of this is possible.
Why Working in the Aesthetics Industry Could Be the Perfect Next Step For Midwives
The aesthetics industry is booming worldwide. Demand for Botox and dermal filler treatments has risen every year, with the UK expected to spend upwards of three billion pounds on aesthetic injectables in 2021. Midwives are ideally placed to take advantage of this demand, with their wealth of experience in clinical settings and in patient-centred care incredibly transferable to aesthetics practice. 
Midwives who have joined aesthetics have found that the move has positively impacted their lives, with the costs of training outweighed by benefits including:
A much better work-life balance with the freedom to set their own schedule.
The time to build real connections with their clients and to see the improvement in confidence that aesthetic treatment can create; often still helping women at a vulnerable point in their lives.
The ability to work independently without the stresses of red-tape, shift-work and targets.
The opportunity to learn new and exciting techniques.
A significant increase in earning potential, often enough to leave midwifery and focus solely on aesthetic practice.
Take the First Step in Your Aesthetics Training Journey
Given demand, there has never been a better time to invest in your future and experience these benefits for yourself. MATA offers a range of training options for nurses; whether you'd like to take things step-by-step with our Foundation Course; or if you want to develop both your practical skills and theoretical knowledge through our Level 7 Postgraduate Diploma in Facial Aesthetics. Whichever you choose, you can be confident that our courses are flexible around your schedule, and have been created to give you the best possible start in a new industry. 
At MATA, we've watched with pride as our midwife delegates have flourished in the aesthetics industry, whether they've joined existing clinics or have set up their own business; and we look forward to welcoming more midwives to our worldwide community of aesthetics professionals. 
To discuss taking the first step on your journey towards a fulfilling career in the aesthetics industry and explore training opportunities with MATA, call us today on 020 3976 6979.
As we near the end of National Smile Month, it's important to look at all the ways in which dentists can enhance their patients' smile. Although cosmetic dentistry has boomed in the last five years, adding aesthetic injectable treatments such as Botox® and dermal filler to your range of treatments can allow you to take a holistic approach to smile transformations; enhancing not only your patients teeth, but smoothing, volumising and defining the facial structures around the mouth.
Why Dentists should Train in Aesthetic Injectables
Dentists are uniquely placed for success both in aesthetics injectables training and within the medical aesthetics industry. As trained injectors with daily experience of treating sensitive areas, alongside having high levels of manual dexterity in restricted spaces; dentists possess skills that are highly transferable to aesthetic injectable practice. This is only enhanced by their already advanced knowledge of facial anatomy. Furthermore, a dentist already possesses the perfect clinical space to practice Botox® and dermal fillers and an existing private client base already primed for aesthetic treatment through cosmetic dentistry.
The Benefits of Training in Aesthetics for Dentists
Training in medical aesthetics and adding injectable therapies such as Botox® and dermal fillers to your existing range of treatments can come with a variety of benefits for your clinic. Expanding into aesthetic treatment will encourage patient retention; with patients returning to the clinic on a more frequent basis for repeat injections and so remaining familiar and impressed with your practice. It can also give your clinic an edge by offering a wider treatment range than your competitors, such as Botox® for bruxism and gummy smiles or dermal fillers for smile and marionette lines or for lips. Adding these treatments can also attract new clientele to your clinic, further enhancing your income potential.
MATA Courses for Dentists
Our JCCP Approved Level 7 Diploma in Facial Aesthetics is ideal for dentists new to aesthetics practice; developing your understanding of the theory and practice of Botox® and dermal fillers over the course of nine months. The Diploma provides six days of practical training in aesthetic injectables, including treatments which will be of great use in a dental environment such as gummy smile reduction and Botox® for bruxism; in addition to online learning which will give you the opportunity for applied study of the theory behind aesthetics injectable practice.
For dentists who already hold a Foundation or Advanced Certificate in aesthetic injectable practice; our Specialist Masterclass for Dentists is the ideal way to enhance your expertise in Botox and dermal filler treatments that pair with dentistry. This one-day course was designed by cosmetic dentists and focuses on lower face treatments including Botox for bruxism and gummy smile, and dermal filler for the lips, chin and nose. To find out more about our Level 7 Diploma or our Specialist Masterclass for Dentists, contact us to discuss our courses in more detail and begin your aesthetics training journey with MATA.
Gaining popularity in 2020 thanks to celebrities such as Kendall Jenner and Bella and Gigi Hadid, the Fox Eye Thread Lift has been trending on social media throughout 2021. #foxeye has over 180 thousand mentions on Instagram and 51.2m views on TikTok, both as a result of make-up styles and eyebrow shaping designed to create the elongated upwards almond shape, and thread lift aesthetic treatments, with clinics across the UK now offering this procedure.
What is the Fox Eye Thread Lift?
A Fox Eye Thread Lift allows clients to achieve a similar eye-shape to that of the Hadids without the use of make-up or eyebrow shaping. PDO or semi-permanent barbed threads are inserted at strategic points on the temple and forehead which when drawn on will hook under the skin and gently pull it back, lifting the skin around the eye up and out to create the desired upturned almond shape.
Critics of Fox Eye Thread Lifts
Like any new aesthetic treatment, this procedure has its critics. Generally, barbed thread lifts have a 15-20% complication rate, with risks including temple hematoma, thread infection, granuloma, thread snapping, suture migration, suture extrusion, and pain where the thread end meets the underside of the skin. Whilst these complications can be resolved relatively easily, both clients and aesthetic practitioners should be aware of the risk.
With the Fox Eye Lift, these risks are only increased. Normally, thread lifts are intended to create subtle improvements to lines and wrinkles, however this treatment relies on the threads creating a dramatic lift to the skin around the eye. Because of this, clients can be left with puckering and folding, as the skin has nowhere to go after being pulled up by the threads. Furthermore, as the skin around the eye can be thinner than elsewhere on the face, sutures can be visible through the skin following the procedure. Given that the dramatic effect created by the Fox Eye Thread Lift may only last three weeks, whether the results outweigh the risk of the procedure is debatable.
Beauty Meets Cultural Appropriation
In addition to the physical risks of the Fox Eye Lift, the procedure (in addition to the make-up styles and the instagram trend of pulling back the temples to create an elongated almond eye), has met with accusations of cultural appropriation and racism. Critics have commented that "a facial feature in which [asians] had once been ridiculed for was being turned into a beauty trend", without empathy for the negative treatment many Asian people have experienced due to their eye shape.
The Future of the Fox Eye Thread Lift
It's always difficult to tell whether certain aesthetic trends will stand the test of time. For now though, as clients from a range of age groups strive to emulate the look of models such as the Hadids, the Jenners and the Kardashians, the Fox Eye seems set to remain for the foreseeable future. We can only hope that clients are fully briefed on the risks and rewards of this treatment before undergoing the Fox Eye Thread Lift.