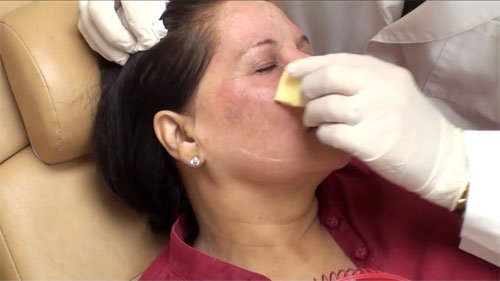 Introduction
Chemical Peels are the perfect skin treatments to add to your portfolio of aesthetic procedures.  Relatively quick and easy to administer, these popular treatments offer excellent solutions to a wide variety of skin conditions – from anti-ageing to scarring.   But they are not without risk and it is therefore important that you can assure your clients the highest standards of training and patient care have been trained into your practice.
And not all products and procedures are the same.  For severe skin conditions such as extreme pigmentation stronger chemical peels are required and that involves an advanced level of training and qualification.  It is essential that you seek the right training to build on your knowledge and experience on the treatments you are keen to offer. At MATA Courses we offer the best chemical skin peel training courses for aesthetic practitioners and health care professionals.  The theory component of the course is carried out on our online resource prior to attending.
Career Opportunities
It is not all about compliance, your career will be enhanced with the experience from a MATA course because we believe in the complete learning "spectrum".  From theory to hands-on practice to legal requirements, business integrity is what will make you succeed.  If you are an aesthetics professional, or a healthcare professional considering offering chemical peels as part of your practice you will be on the way to a very rewarding development to your business.  Or maybe you are gaining more experience and qualifications to benefit your employer's suite of procedures, either way, getting the right training is essential to your credentials.
Location
In the heart of London's centre of medical excellence, Harley Street, our MATA training courses could not be better-placed.  Our No.1 Harley Street address is just a short walk from Oxford Circus underground station and if you are travelling from further afield, there are plenty of affordable hotels nearby.  We will soon be conducting training for chemical peels at our newer location in Burnley, Manchester. Use our enquiry line for more details on this.