Russian Lips are one of the hottest trends in aesthetics right now, with over 284k mentions on Instagram and 23.5m views on TikTok. The look is created using a different injecting technique than that traditionally used for lips fillers, and began to gain popularity in Russia in 2015 before making its way west and exploding in popularity in the UK.
What are Russian Lips?
Russian style lips are rumoured to be modeled on Russian nesting dolls, also known as matryoshka or babushka; who have perfectly heart-shaped lips and a defined cupid's bow. The goal of the Russian Lip technique is to accentuate the cupid's bow and create something close to a heart shape, and to heighten the lips rather than adding excessive plumpness; creating lips that resemble that of a matryoshka doll.
How are Russian Lips Created?
Because the intended shape of Russian Lips is so different from that created by traditional filler, clients will need to have either let their original fillers wear off or have had them dissolved with hyaluronidase. Russian Lips are created by retro-injecting columns of filler vertically into the lips through the vermillion border, rather than horizontally in the vermillion zone as is done traditionally. This technique is also known as 'lip tenting', with the columns of filler acting as 'tent-poles' that hold up the white roll around the lip, creating lip definition.
What's the Final Result?
The Russian lip technique adds height to the lips and shortens both the appearance of the philtrum and the distance between the lower lip and the chin. The technique accentuates the cupid's bow, and highly defines the edges of the lips; all whilst remaining relatively flat when viewed in profile. 
Critics of Russian Lip Filler
As with any new aesthetic trend, Russian Lip Filler isn't without its critics. Dr Steven Harris, an internationally recognised aesthetics practitioner believes that the Russian filler technique could easily cause filler migration. He suggests that injecting downwards through the vermillion border creates holes or tracks through the orbicularis oris muscle which surround the lips, and that these holes allow filler to seep back through the vermillion border and into the upper lip. As of yet, though there is no definitive proof that this is indeed the case.
Practitioners have also commented that Russian filler technique is more likely to cause discomfort, bruising and swelling to the lips than traditional filler technique, due to the placement and number of injections needed.
The Future of Russian Lips
With the sheer volume of clinics in the UK now offering Russian style filler, and the obvious client demand seen on social media, it looks like Russian Lips will be around for the foreseeable future. Still, we can't help but wonder what the next trending lip style will look like, and whether perhaps it might be kinder to lips than the doll-like Russian Filler Technique.

Almost every aesthetic practitioner has had a case of nerves before carrying out a treatment, particularly when they're newly trained. But if you are finding that you are getting anxious before one particular treatment area time and again, then you may benefit from taking a MATA Masterclass. 
MATA's Masterclasses are one-day courses that provide the ideal opportunity to perfect and enhance your skills in some of the most popular dermal filler treatment areas, allowing you to gain valuable hands-on experience in advanced techniques that will give you a competitive edge in your local aesthetics market
Lip Masterclass
As the popularity of aesthetic injectables has soared, perhaps no dermal filler treatment has become as popular as lip filler. Whether due to naturally thin lips or to a loss of lip volume due to age, clients across the UK are seeking natural, revitalising lip filler treatments that enhance their appearance.
Our expert-led, intensive 1-day Lip Masterclass will develop the knowledge and skills you need to achieve excellent results that instil confidence in your patients, giving you an advanced understanding of:
Lip Anatomy
Lip Assessment
Lip Injecting Technique
Product ranges for lips
Trends in lip filler
Managing lip filler complications
Non-Surgical Rhinoplasty Masterclass
With surgical rhinoplasty costing anywhere from £4000 to £7000, it is little wonder that more and more clients are turning to the 'liquid nose-job' to correct imperfections. Dermal filler can create incredible results when used on the nose, whether in creating definition, treating a squint nose, or even smoothing out and reducing the appearance of a dorsal hump.
MATA's Non-Surgical Rhinoplasty Masterclass is a blended learning experience, combining a thorough study of the theory behind nose fillers with practical training, giving you an advanced understanding of:
Nose anatomy
Facial ratios and angles
Surgical vs. non-surgical techniques
Potential complications
Product selection for nose filler
Correcting dorsal humps
Creating definition
Jawline Masterclass
Jawline fillers are arguably one of the few aesthetic injectable procedures with true cross-gender appeal. This treatment has grown in popularity with men and women of all ages looking to achieve a slimmer, more defined jawline, reduce the appearance of jowls, or to correct sagging skin.
Our expert-led Jawline Masterclass will provide you with the opportunity for in-depth study and practice of jawline fillers to give you the skills and confidence to create incredible results for your clients, giving you expertise in:
The anatomy of the jaw and chin
Facial ratios and angles
Complication management and prevention
Injection vs cannula technique
Product selection for jawline procedures.
Tear Trough Masterclass
Perhaps one of the most complex treatment areas, tear trough filler has nonetheless increased in popularity with clients across a wide age range who are seeking a brightened, refreshed under-eye look without the need to turn to surgical procedures or for the daily use of creams, concealer or brightener.
MATA's expert-led Tear Trough Masterclass has been designed to give advanced Botox and dermal filler practitioners the opportunity to study and practice this delicate procedure, giving you an enhanced understanding of:
The anatomy of the periorbital area
Orbital and facial proportions and angles
Complication management and prevention
Cannula technique
Product selection for tear trough procedures
Joining a MATA Masterclass
MATA Masterclasses are open to medical professionals who hold a Foundation or Advanced certificate in aesthetic injectables. To discuss registering, please contact our team who will be happy to take you through the enrollment process.
Although as aesthetic practitioners we are perhaps more familiar with Botox being used to reduce signs of aging, it is interesting to note that it was used to treat medical conditions long before it was used for aesthetic purposes. It was first licenced to treat crossed eyes and eyelid spasm in 1989, a full 13 years before it was approved to treat lines and wrinkles. Botox® has proven to be an incredibly versatile treatment, and can be used to treat conditions such as hyperhidrosis and bruxism with incredible results.
Botox for Hyperhidrosis
Hyperhidrosis is the medical term for excessive sweating that isn't caused by heat, stress, or exercise; a condition affecting hundreds of thousands of people in the UK alone. It can be an embarrassing, isolating condition that causes anxiety in its sufferers; who can sweat so much that it soaks through their clothes. Fortunately, Botox® is licensed for treating underarm hyperhidrosis.
Although the exact cause of hyperhidrosis is as yet unknown, it can be summarised that the nerves that send signals to the sweat glands are overactive. When Botox® is injected into the underarm, it blocks signals to the sweat glands; stopping them from producing sweat. It is an incredibly effective treatment; so much so that the procedure has become incredibly popular as an aesthetic treatment as opposed to one to target medical needs.
Botox for Bruxism
Bruxism affects over 10 millions adults in the UK, clenching and grinding their teeth through the day and night, with symptoms ranging from excessive teeth wear and gum inflammation to headaches, migraines, earache, and neck, shoulder and jaw pain; along with hypertrophy of masseter muscles causing a squared jawline.
Injecting small doses of Botox into the masseter muscles weakens the muscle just enough to stop the clenching and grinding action, not only alleviating the symptoms of bruxism, but also slimming the appearance of the jawline.
Training in Botox for Medical Conditions
At MATA, we train our Advanced delegates in the use of Botox to treat not only aesthetic concerns, but also medical conditions including hyperhidrosis and bruxism. Offering these treatments to your clients will only widen your appeal in your local aesthetics community, and will give you an edge over your competitors. If you are a medical professional and hold a Foundation Certificate in aesthetic injectable procedures; get in touch with us today to discuss joining our Advanced Course. Alternatively, if you are new to Botox® and dermal fillers, you may be interested in learning more about our Level 7 Diploma in Facial Aesthetics, a JCCP approved course that will take you from beginner to advanced practitioner over the course of nine months. Contact us
Since the early 19th century, Harley Street has been renowned as a center of medical excellence in the United Kingdom. Famous figures including Florence Nightingale and Sir Joseph Lister lived on Harley Street, and today over 5000 medical specialists work in what is now known as the Harley Street Medical Area.
At MATA, we're proud to continue Harley Street's tradition of medical expertise, educating the next generation of medical and healthcare professionals in patient-centred aesthetics through courses developed from our home at No.1 Harley Street.
We have delivered true Harley Street training to over 1000 delegates globally since our launch in 2015, and today we are delighted to launch our Genuine Harley Street Training Stamp.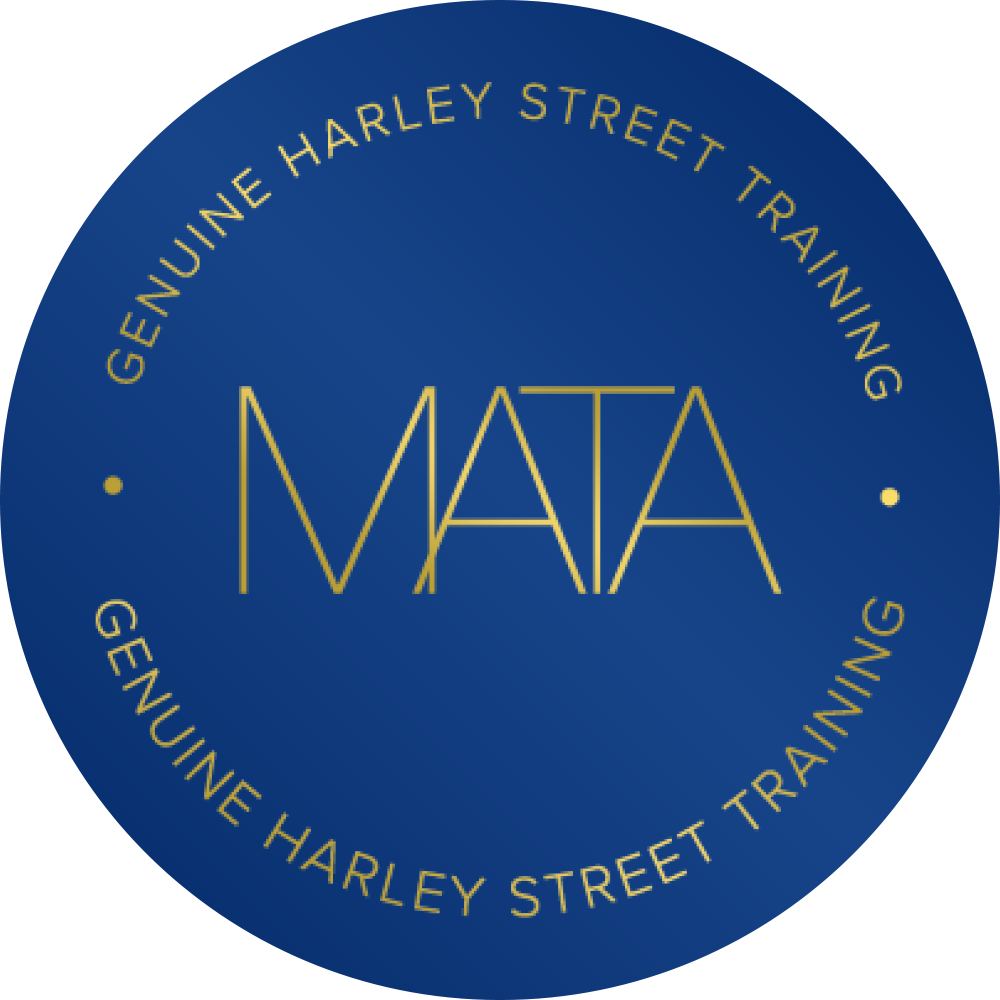 All MATA graduates can use this Stamp in their own branding when they begin their career in aesthetics, whether on their website, social media channels or promotional material; and will:
Show your clients the high standard of training you have achieved
Set you apart from your competitors and give you an edge in your local aesthetics market
To discuss joining MATA's global community of aesthetic professionals and begin your Harley Street training journey, call us on 020 3126 4870

The Botulinum Toxin and Cosmetic Fillers (Children) Bill has passed its third parliamentary reading and has gained royal assent, becoming law in England. The legislation will become enforced in the autumn of 2021.
Botulinum Toxin and Cosmetic Fillers (Children) Bill has passed its third parliamentary reading and has gained royal assent, becoming law in England. The legislation will become enforced in autumn of 2021.
The bill was brought forward by Conservative MP Laura Trott on the 21st of March this year and sponsored by Baroness Wylde, receiving cross-party support in the House of Commons and House of Lords. The bill was written with the intention "to make provision about the administration to persons under the age of 18 of botulinum toxin and of other substances for cosmetic purposes; and for connected purposes"; with providers who break this law subject to a fine. The bill does not prohibit procedures using Botox® and dermal filler which have been deemed medically necessary, but does require that such procedures are carried out by a doctor, health professional, or registered medical practitioner.
At MATA, we have never treated children or teens under 18 with Botox® or dermal filler, which we felt was a common-sense policy that should have been adhered to across the aesthetics industry. We are glad that legislation is now in place to prevent the treatment of under 18s, thanks to the work of Laura Trott and Save Face. Over recent years, teens have experienced ever-increasing pressure to undergo aesthetic injectable treatments, and we are happy that measures have been taken to prevent less scrupulous practitioners from taking advantage of that vulnerability.
Given that aesthetic injectables is a relatively new sector which has experienced a meteoric rise in popularity, it is unsurprising that regulations are still to catch up. We believe this bill is a move in the right direction and look forward to further legislation which will create a more regulated industry in the future.

As IQ (Industry Qualifications) Awarding Organisation officially went into administration (click here) and surrendered Ofqual recognition (click here), selling their assets to SFJ Awards. Many aesthetic training providers approved by IQ have found themselves in great deal of uncertainty. As SFJ took over IQ, they decided to withdraw their Level 7 Certificate in Injectables (click here). This leaves the affected learners to complete their L7 qualification by 2022. Furthermore, according to the IQ website, no new delegates will be recruited to the qualification.
Ofqual have allowed students currently completing this certificate until 2022 to achieve, however, the qualification may no longer be in existence after this date, leaving many medical professionals with a great deal of uncertainty.
MATA Unaffected by Changes
We would like to reassure all of our previous, current, and future learners that this change does not affect MATA's Level 7 Postgraduate Diploma in Facial Aesthetics (incorporating the OTHM Level 7 Certificate/Diploma in Clinical Aesthetic Injectable Therapies) as we work with a different awarding organisation. Our Postgraduate Diploma is awarded by the OTHM awarding organisation which has no association with IQ or SFJ and therefore MATA's injectable qualification continues to be a valid Diploma, and Ofqual regulated. OTHM are in a safe position with no changes forecast for the future, leaving MATA's Level 7 Diploma soundly secure.
How MATA are Helping those Affected
As many aesthetic training providers are affected by this change, there will be numerous learners left disappointed to find the qualification they are studying will have an uncertain future. MATA have therefore decided to aid those who will be in the midst of their studies by providing an RPL route (recognition of prior learning) so that they can continue their journey in facial aesthetics without having to redo any training already completed, and transfer their qualification to MATA's level 7 Certificate worth 35 credits or progress to the MATA's Level 7 Diploma, worth 60 credits
Are you Affected by this Change?
If you are affected by this change, either by already having completed a Level 7 Certificate in Injectables regulated by IQ, or are currently studying with one of the affected training providers, then get in touch with a representative at MATA today and find out how we can help you to transfer your qualification
Training Providers Affected
If you are one of the training providers affected by this change, we are offering a potential opportunity for a partnership, and the possibility of transferring your current IQ Level 7 Certificate to MATA's newer Level 7 injectable Certificate. Please get in touch with us if you would like more information about collaborating with MATA.
Call us on 020 3976 6979
Email us at [email protected]
Dentists are the technical professionals of the healthcare field, knowledgeable of orofacial structures with a dexterous hand. Many seek to learn new skills alongside dentistry – At MATA, we believe in teaching dental professionals injectable skills with our exclusive Level 7 Diploma in Facial Aesthetics: Incorporating OTHM Level 7 Certificate/Diploma in Clinical Injectable Therapies. Here are our top 10 reasons for dental professionals to come and train with MATA.
Enhance your Technical Dexterity: Already precise with tools in the dental office, aesthetics is a great fit for you, MATA offers core practical training to give you the necessary experience with real-life models.
Expand into Aesthetics: As you are probably already aware dental professionals are providing aesthetic treatments like teeth whitening, straightening and harnessing other ways to enhance that smile. Your dental office is a perfect fit for offering aesthetics, with tools already available for your technical abilities.
Profit from More Income: Aesthetics is highly profitable with many 22-35 year olds seeking aesthetic treatments. As a dentist, you could work additional hours while creating further financial abundance.
Train with Experts: At MATA, we are a sophisticated team of medical professionals from a multitude of backgrounds. Essentially this is why we feel the utmost confidence in offering you the best training practice to ensure you become highly proficient and competent with aesthetics.
Choose your Working Hours: In some cases, many dentists may feel overworked and bored with the standard 9-5 working hours. With an aesthetics accreditation, you can be sure to create a convenient and more comfortable working schedule, in all the aid to create a perfect work-life balance.
Get an Accredited Qualification: Why waste precious time and money on a qualification or course that is effectively useless? Our Level 7 Diploma is unlike any of those – we are backed by the right people. Specifically, our courses are tailored to follow JCCP (The Joint Council of Cosmetic Practitioners) and CSPA (Cosmetic Standards Practice Authority). Meaning you are fully accredited under our Level 7 Diploma.
Grow with MATA: From beginning to the end, we are backing you, giving you the support, training and necessary skills you need with going into a competitive market.
Start an Aesthetics Business: On reflection of moving into a competitive market, we have the know-how to provide you with the necessary skills, confidence and knowledge to begin your own profitable enterprise.
Get to Know the Right People: At MATA, we are fortunate enough to be at the centre of London, aesthetics central. From the beginning of MATA in 2015, we have worked to create meaningful relationships with aesthetic doctors, companies and other professionals. Essentially, we feel confident in helping you make the first steps of building meaningful relationships within cosmetics.
Experience is Everything: Our Level 7 Diploma has been created from a vocational perspective to help you, the dental professional gain enough experience practising Botulinum Toxin and Dermal Fillers.
We hope in the near future you will add to our already trained and experienced dental professionals before reaping the benefits of aesthetics.
MATA is celebrating being shortlisted for the Best Independent Training Provider within the Aesthetic Awards 2019.
The award will be presented to the independent training provider whose training programme is considered to have advanced the education of medical aesthetic professionals most effectively during the last 12 months. 
MATA has previously been shortlisted and highly commended in the previous two years and has a great opportunity to win this year thanks to the public vote. To help MATA win, please vote HERE by 31st October 2019.
"MATA grew a lot in the last two years by launching the Postgraduate Diploma courses and being accredited by the OTHM Awarding Organisation. Winning this year it will be the recognising of great work from our team and tutors and great support from our delegates" said Faz Zavahir, founding director at MATA.
Winning an Aesthetic Award is the most impressive industry recognition a company can achieve and is unique in raising awareness towards the high clinical education standards and professionals in the aesthetic industry.
The winners will be announced at a celebratory dinner on 7 December, London.
Botox Training Nottingham
Injectable treatments have ballooned in popularity over the past decade, whether you're based in Nottingham or the rest of the UK.
Non-invasive facial procedures, in particular, like Botox and dermal fillers have become a popular choice in recent decades, in part because of the speed of administering them and their quick results.
Botox and dermal fillers account for nine out of 10 of all cosmetic procedures performed in the UK, in an industry which is set to be worth £900 million in the UK by 2019. This is cosmetic surgery at its most convenient.
Now is a fruitful time to join the ranks of the cosmetic industry. As practices across the UK continue to grow, the need for highly skilled practitioners is on the rise.
Healthcare professionals like doctors, nurses, dentists and pharmacists are prime candidates for this exciting and lucrative industry – and MATA's in-depth training courses can help you.
MATA's Harley Street Botox training is now available in Nottingham. It's a course that's won several awards since being established, and its founders continue to explore the pioneers of facial aesthetics to ensure its students receive the finest education.
MATA offer Botox training at varying levels from a foundation course to our Postgraduate Diploma qualification, and provides extensive, intricate, fun and informative educational tools that value flexibility and hands-on experience.
Sign up and you'll have over 600 hours of online tools at your disposal, with videos, webinars, quizzes, lectures and discussion boards available 24 hours a day via our Virtual Learning Environment (VLE).
What's more, the provision of real-life models, face-to-face seminars and training days will allow you to put theory into practice and leave our training modules feeling confident and well-informed.
MATA training goes further than just meeting basic regulations – our industry-recognised Botox training meets and exceeds requirements set out in the HEE 2016 Guidelines.
Why Train with MATA?
MATA has been an advocate for tighter regulations in the facial aesthetics industry and, as the Keogh Report has shown, regulatory standards are catching up with the demands of the market.
With MATA, the focus of your education isn't on practice for its own sake. It's about creating a high-quality environment that will meet safety standards for the future, satisfying the needs of you and your clients.
Our qualifications, including our Postgraduate Diploma in Facial Aesthetics ( Botox and dermal filler qualification), are quality assured and recognised by regulatory bodies. Upon completion of a MATA training course or qualification, a certificate which is recognised by all of the main insurance bodies is received. MATA provide our Nottingham delegates with everything they need to get on their feet in the aesthetics world including advice on setting up a private clinic.
The professionals training you are well-known and well-regarded in the industry, and have extensive experience running clinics of their own. You'll have the chance to meet them on special training days, where they'll answer your questions, attend seminars and watch practical demonstrations on live models.
This is the chance to see a Botox treatment up close – and it's an experience offered by few of our competitors.
Who are MATA's Courses and Qualifications for?
MATA was founded with a goal to improve the existing standards in the aesthetics industry. Because of this we only offer our Botox and Dermal Fillers courses and Level 7 Botox and dermal filler training to fully-qualified medical and healthcare professionals.
Typically healthcare professionals that are able to enrol are degree-holding:
If you believe you may be suitable but do not see your profession listed please feel free to enquire via our contact form.
Beauty therapists and other unqualified professionals are unable to attend MATA's injectable training courses.
Modules Covered
MATA offers two different levels of Botox courses in Nottingham – foundation and advanced.
Our foundation and advanced training can both be built towards our Postgraduate Diploma qualification in Botox and dermal fillers.
Levels can be studied individually and counted as credits towards the full Postgraduate qualification. Delegates will typically study our Botox courses alongside dermal filler training on one of our Foundation Botox and Dermal Fillers Training Weekends.
On the foundation training weekend, subject matter covered for each treatment is as follows:
Botox

Facial Anatomy

Optional practice on cadavers (dissection and injection)

Medical history, note taking and patient consent forms

The different types and brands of Botulinum Toxin available on the market

Patient assessment

How to achieve a natural result with Botox

Pre-treatment and post-treatment care

Possible complications and how to avoid/deal with them

Tutor demonstrations

Practical training on volunteer patients

Treatment areas covered:

Frown lines

Forehead lines

Crow's feet

Brow lifting

Dermal Fillers

Facial Anatomy

Optional practice on cadavers (dissection and injection)

Medical history, note taking and patient consent forms

The different types and brands of dermal filler available on the market

Patient assessment

Should Botox or dermal fillers be used to treat the area?

How to achieve a natural result with Dermal Fillers

Pre-treatment and post-treatment care

Possible complications and how to avoid/deal with them

Tutor demonstrations

Practical training on volunteer patients

Treatment areas covered:

Nose to mouth lines

Marionette lines
Lip Augmentation
To wrap up the foundation weekend delegates are given an overview of the possible next steps and a brief introduction to MATA's advanced level Botox and dermal Fillers training.
Our advanced Botox and dermal fillers training day teaches learners how to perform the following treatments:
Botox

Hyperhidrosis (excess sweating)

Definition of the chin/jaw (bruxism)

How to correct a downward turned smile

Brow lift

Reduce a gummy smile

Smoker's lines around the mouth

Nefertiti lift

Dermal Fillers

Cheekbone enhancement

Chin definition

Jawline definition

How to reduce smoker's lines

Combined fillers
The foundation and advanced levels count towards our UK Level 7 Botox Qualification, An industry recognised qualification.
Nottingham points of interest
If you're attending Nottingham for a MATA course, you may also want to take in the sights and sounds of the city – and it's a location that doesn't disappoint.
Well-known for its association with the stories of Robin Hood, this central-Midlands city is home to astounding architecture, delicious restaurants, fascinating cultural artefacts and a huge number of shopping outlets.
Our day-courses will give you plenty of time in the evening to explore Nottingham's tourist sights – so book a weekend if you want to really appreciate the city.
For more information, get in touch on 020 3126 4870 or [email protected]
MATA awarded Highly Commended at Aesthetics Awards 2017
MATA are honoured to have been awarded a Highly Commended recognition in the 'Best Training Provider' category at this year's Aesthetics Awards. The category was extremely competitive this year and we are especially proud to have achieved this recognition in 2017.
2017 has seen a large amount of growth for MATA, we have taken on new team members, new trainers, increased course dates and expanded our offering of courses and qualifications. Including introducing our joint initiative with DHAT – the Level 7 qualification in Applied Clinical Facial Anatomy for Cosmetic Interventions.
This qualification also achieved Commended status for this year's 'Professional Initiative of the Year' at the Aesthetics Awards, meaning MATA achieved recognition in all categories we were shortlisted for.
We would also like to extend a huge congratulations to our Head of Academia and MATA trainer Elizabeth Raymond Brown who was the well-deserved winner of The Schuco Award for Outstanding Achievement in Medical Aesthetics.
With MATA winning 'Training Academy of the Year' at the London Hair and Beauty Awards and 'Best Aesthetic Training & Education Award' at the Safety in Beauty Diamond Awards earlier this year, MATA are excited to embark into 2018 with our accolades continuing our mission of providing outstanding training in the medical aesthetics industry.